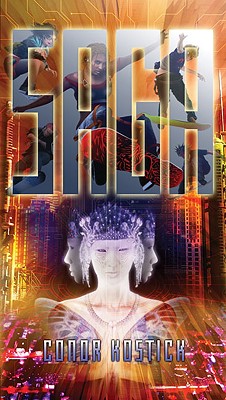 Saga (Paperback)
Firebird, 9780142414224, 384pp.
Publication Date: June 11, 2009
* Individual store prices may vary.
Description
Ghost is part of an anarcho-punk airboard gang who live to break the rules. And there's a good reason - their world, Saga, has a strict class system enforced by high-tech electronics and a corrupt monarchy. Then Ghost and her gang learn the complicated truth. Saga isn't actually a place; it's a sentient computer game. The Dark Queen who rules Saga is trying to enslave the people of New Earth by making them Saga addicts. And she will succeed unless Ghost and her friends - and Erik, from Epic, and his friends - figure out how to stop her in time.
About the Author
Conor Kostick is the author of the acclaimed Epic Trilogy -- Epic, Saga, and Edda.

He was a designer for the world's first live fantasy role-playing game, based in Peckforton Castle, Cheshire. He lives in Dublin where, having completed a Ph.D on the subject of the crusades, he now teaches medieval history at Trinity College Dublin. He has published widely on history, culture, and politics, including coauthoring The Easter Rising: A Guide to Dublin in 1916, and co-editing Irish Writers Against War, an anthology of writings by Irish authors in response to the war in Iraq. He has twice been elected chairperson of the Irish Writers' Union.
Praise For Saga…
This exciting sequel's concept explodes far beyond Epic...Clean prose, remarkable story. -Kirkus Reviews, starred review



In the sequel to Epic (2007), a Booklist Top 10 Fantasy for Youth, the Dark Queen infiltrates New Earth's central computer system, erasing the role-playing game called Epic. It's replaced with Saga, designed to enslave New Earth's populace. In Saga, Ghost, a 15-year-old girl with no memory of her first 9 years, is part of an anarcho-punk airboard gang. Strange things have been happening in Saga—strangers are appearing, then disappearing into thin air—and Ghost's gang eventually learns what readers already know: Saga is not a real world but a sentient computer game. When Eric arrives in Saga as his avatar Cindella Dragonslayer, he joins forces with Ghost and her gang to stop the Dark Queen from destroying New Earth. Though this adventure sustains the suspense of its predecessor, the replacement of magical Epic (with its strong resemblance to real-world computer games) with the more mundane Saga may disappoint some returning readers. Another sequel is planned, and it will definitely be interesting to see where Kostick goes from here. Grades 7-10. — Sally Estes

Grade 9 Up—Living under the oppressive rule of a 2000-year-old Dark Queen, the inhabitants of the violent world of Saga are downtrodden. To survive, Ghost and her friends raid malls, ride airboards, and try to subvert the class-driven system. When they meet the swashbuckler Cindella Dragonslayer, first introduced in Epic (Viking, 2007), they are perplexed. Her clothes, her mannerisms, and her magical abilities are absurdly out of place. Saga is a virtual-reality game and Cindella is the avatar of Erik Haraldson, the winner of the previous iteration of the game. Saga's characters are now sentient beings, and the Queen has enslaved Erik's world with a drug that forces them to play or die. She will only release them if Erik makes her children immortal, but if he complies, the people of Saga will suffer. Erik and Ghost must each find their own way to defeat the Queen. The plot elements of this complicated, fast-paced novel are not fully integrated, and readers who have not read Epic will be puzzled by the importance of Cindella/Erik. The moral conflict between Erik's peaceful society and Ghost's violent one has the potential to be an interesting examination of how the worlds function, but this idea is never fully addressed. Despite these flaws, readers will find the adventures of anarchic teens on floating skateboards compelling. Give this to fans of video games and readers of James Patterson's "Maximum Ride" series (Little, Brown). — Heather M. Campbell, formerly at Philip S. Miller Library, Castle Rock, CO

STARRED REVIEW  This exciting sequel's concept explodes far beyond Epic, its 2007 predecessor. Epic (the game) is defunct, but a new game—Saga—has mysteriously appeared on New Earth's computer system. Erik's Cindella is the only character allowed to carry over; other people create new avatars. Immediately, vast numbers of players beocme addicted and fall sick. Meanwhile, a girl named Ghost and her anarcho-punk gang raid malls, destroying property to protest unfair class rankings. Ghost has no home; her consciousness goes back only six years to age nine. Who was she before that? Kostick reveals early how Ghost's world features airboarding and anti-gravity technology while Erik's tech-regressive society drives donkey carts: Ghost's world is Saga, the game that Erik's people are currently playing. Thousands of years ago on Earth, Saga's characters sprang into consciousness—Saga's population is human. But two of its original Reprogrammed Autonomous Lifeforms remain, one a Dark Queen thirsting for immortality. Only Cindella and Ghost can challenge the Dark Queen's enslavement and potential genocide of New Earth's meta-humans. Clean prose, remarkable story. (Science fiction. YA)
or
Not Currently Available for Direct Purchase