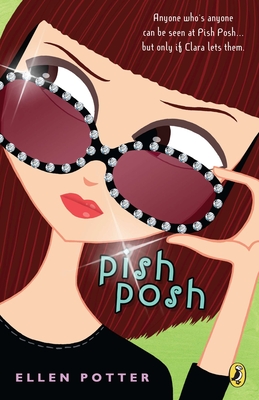 Pish Posh (Paperback)
Puffin Books, 9780142419069, 176pp.
Publication Date: June 9, 2011
Other Editions of This Title:
Hardcover (4/20/2006)
* Individual store prices may vary.
Description
Super-snobby eleven-year-old Clara Frankofile has all she could possibly want. Her parents are rich, she lives in an apartment with its own roller coaster, and anyone who is anyone in New York City is terrified of her. Each night at her parents' fashionable restaurant, Pish Posh, Clara watches the celebrity diners, deciding who is important enough to stay and who must be banished. But Clara's world turns upside down when she discovers a mystery happening right under her nose. With the help of her new friend - a brilliant twelve-year-old jewel thief - Clara begins to look at life differently, and she may just be able to solve this most intriguing case.
About the Author
Like my character, Olivia Kidney, I grew up in a high-rise apartment building in New York City's Upper West Side. In fact, the idea for
Olivia Kidney
came from a game I used to play when I was about eight or nine years old. I would watch people in the building's elevator (most of whom I knew nothing about) and make up crazy stories about their apartments. There was one woman, for instance, who was sort of chubby and always cheerful, so I imagined that she lived in an apartment made entirely of chocolate! I imagined that her walls were made of chocolate, so she could lick them, and her furniture was chocolate, and she had a chocolate refrigerator that only contained chocolate eggs and chocolate milk. And if she got hungry in the middle of the night, she could nibble on her bed.
I remember the exact moment when I knew, without a doubt, that I wanted to be a writer. I was eleven years old and I was in my school library, strolling through the aisles, trying to decide what to read next. Should it be A Wrinkle in Time? Or maybe Harriet the Spy. In a flash, I decided that the best books in the world were written for eleven-year-olds! Sadly, my twelfth birthday was just around the corner. So I reasoned that the only thing to do was to grow up and write books for eleven-year-olds. Which is pretty much what happened (after many years and piles of rejections letters).
I studied creative writing at Binghamton University. After graduating I worked many different jobs while I continued to write. I was a dog groomer, a construction worker, an art teacher, and a waitress. Having lots of different jobs is a terrific advantage for a writer. Because of them, I know all kinds of oddball things, which I've used in my books, like how to remove bubble gum from a dog's fur (peanut butter). In fact, it was while I was addressing envelopes during a boring stint as a receptionist that a name caught my eye: Olivia Kidney. What a great name, I thought! I jotted it down in my journal. Years later, while thumbing through my old journals, I spotted the name and decided it was perfect for the feisty twelve-year-old heroine of my first children's book.
These days, my husband and I live in upstate New York with our new baby boy and a motley assortment of badly behaved animals.
For more information visit www.ellenpotter.com.
Praise For Pish Posh…
"This zany mixture of reality and fantasy…offers many interesting characters for readers to ponder…." —Booklist