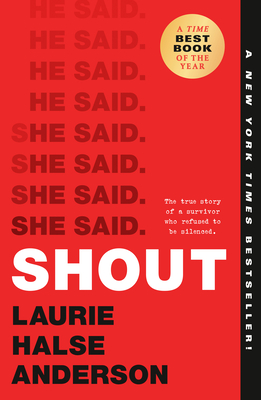 SHOUT
Paperback

* Individual store prices may vary.
Other Editions of This Title:
Digital Audiobook (3/11/2019)
Hardcover (3/12/2019)
Library Binding, Large Print (4/3/2019)
CD-Audio (3/12/2019)
Spring 2019 Kids Indie Next List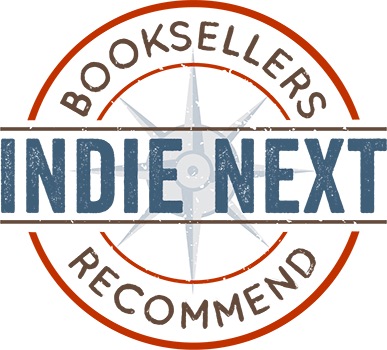 "Laurie Halse Anderson invites readers not to speak but to shout in her new poetry memoir, a long-awaited follow-up to her bestselling YA novel
Speak
, which centers around a survivor of sexual assault. In
SHOUT
, Anderson shares memories from her young adulthoodwhen she herself was raped and how she found the strength to keep going. Between autobiographical poems lie fierce rants about rape culture and censorship, as well as love letters and encouragement to survivors of sexual assault.
SHOUT
is a fist raised to the sky, arriving on the heels of #MeToo and urging readers to never be silenced. A must-read."
— Mary Wahlmeier, Raven Book Store, Lawrence, KS
View the List
Description
Award-winning Speak author Laurie Halse Anderson's New York Times bestselling poetic memoir and call to action, which garnered eight starred reviews!

Bestselling author Laurie Halse Anderson is known for the unflinching way she writes about, and advocates for, survivors of sexual assault. Now, inspired by her fans and enraged by how little in our culture has changed since her groundbreaking novel Speak was first published twenty years ago, she has written a critically acclaimed poetry memoir that is as vulnerable as it is rallying, as timely as it is timeless. In free verse, Anderson shares reflections, rants, and calls to action woven among deeply personal stories from her life that she's never written about before. Praised as "captivating," "powerful," and "essential" by critics, this searing and soul-searching memoir is a denouncement of our society's failures and a love letter to all the people with the courage to say #MeToo and #TimesUp, whether aloud, online, or only in their own hearts. SHOUT speaks truth to power in a loud, clear voice--and once you hear it, it is impossible to ignore.
Praise For SHOUT…
"Anderson's prose is so gorgeous . . . that at times the book needs to be put down to absorb her utter mastery of language."—Entertainment Weekly

★ "In this powerful memoir told in free verse, Anderson delves into her past. . .Her potent words and willingness to shout her message are proof of the soundness of that advice." —Publishers Weekly, starred review

★ "A captivating, powerful read about clawing your way out of trauma, reclaiming your body,and undoing lifetimes of lessons in order to use your voice as the weapon it is. Fervent and deafening." —Booklist, starred review

★ "Readers new to Anderson will find this accessible. It's a strong example of how lived experience shapes art and an important book for the #MeToo movement." —Kirkus Reviews, starred review

★ "A praise song to survivors, a blistering rebuke to predators, and a testament to the healing power of shared stories."  —The Horn Book, starred reivew

★ "Will ring out to readers who themselves believe in the power of stories." —Bulletin of the Center for Children's Books, starred review

★ "In searing free verse, Anderson unloads decades of trauma on these pages . . . Longtime Anderson fans will appreciate this deeply personal look into how the author chan­neled her pain into the writing of Speak, and readers new to her work will be swept up in her singular style, which melds bold honesty with fluttering moments of lyrical beauty." —Bookpage, starred review 

★ "More than a gifted writer, Anderson is an advocate for anyone who feels alienated. Her sensitive, incisive book is essential for all young people." —School Library Journal, starred review

★ "Immensely powerful." —Shelf Awareness, starred review

★ "Poetry is very often written to be heard, and this collection in particular ought to be heard—spoken proudly by Anderson, outloud, and at full volume." —Booklist review of the audio edition, starred review

"With Speak, Anderson opened the door for more novels exploring the deeply felt and deeply personal aftermath of sexual violence. SHOUT serves as both a testament to the life-altering, lifesaving impact of these types of stories — and as an urgent and brutal reminder of their ongoing necessity." —The New York Times Book Review 

"A powerful testament that bears witness not just to [Anderson's] own pain, and the pain of others similarly abused, but also to the power of speaking persistently, time and time again, about topics that most people don't want to hear." --The Los Angeles Review of Books


"An absolutely essential read for teenagers and the people who know them." --Refinery29

Penguin Books, 9780142422205, 320pp.
Publication Date: March 10, 2020
About the Author
Laurie Halse Anderson has received both the Margaret Edwards Award and the ALAN Award for her contributions to young adult literature. She has also been honored by the National Coalition Against Censorship in recognition of her fight to combat the censoring of literature. She is the author of the groundbreaking National Book Award finalist and Printz Honor Book Speak. She is also author of the critically acclaimed YA books Prom, Twisted, Catalyst, Wintergirls, and The Impossible Knife of Memory. She has also authored a number of middle grade titles including The Vet Volunteers series, and the historical fiction Seeds of America Trilogy, which includes Forge, ALA Best Book for Young Adults Fever 1793, and the National Book Award finalist and Scott O'Dell Award-winner Chains. She and her husband live in northern New York State. Follow Laurie on Twitter @halseanderson and visit her at madwomanintheforest.com.
1. Why is the book divided into three parts? Why is the poem "Speak, Draft One, Page One" in Part One instead of Part Two?
2. Reread "librarian on the cusp of courage" and discuss her interaction with Anderson. Is the librarian courageous at all? What does courage look like for survivors of sexual violence? What does courage look like for teachers? For school communities? For authors and other artists?
3. Anderson repeatedly calls attention to the etymology and de­finition of words, and several poems explicitly compare words. Reread "two opposites of rape," "the word," and "shame turned inside out." How do these underscore her argument about the power of language?
4. Anderson ends her introduction with the following sentence: "This is the story of a girl who lost her voice and wrote herself a new one." Discuss what events or attitudes silenced her voice. Find evidence in the book that she has written herself a new voice.
5. Anderson says, "Danish is a tricky language," and explains how the pronunciation uses very different sounds than English. Why do you think she includes so many Danish words in her poems, particularly if she knows much of her audience is unlikely to speak the language?
6. Reread "cave painting." What turning point does this articulate in Anderson's writing life?
7. In the poem "Catalyst", the author describes how names in her novels are very carefully and deliberately chosen. Find examples when Anderson uses names in her poems. Then reflect on why so many of her poems never offer a name (or pseudonym) for her subjects.
8. What messages about words and sharing stories did Anderson receive as a child? Use poems such as "unclean" and "tsunami" to compare those childhood messages to her mature understandings about speaking one's truth.
9. Why do you think Anderson wrote Speak ­ first instead of writing a memoir about her experiences with sexual violence?
10. The majority of SHOUT is written in free verse. What effect does reading this in poem form have on the reader? What is left out and what is emphasized through this form?
11. There are three pieces in Part One that use prose instead of free verse. Reread the numbered paragraphs in "ampli­fied," "ninth grade: my year of living stupidly," and "chronological cartography." Why are these stories told in prose? How is the tone different than the free verse?