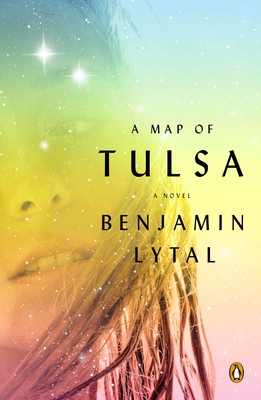 A Map of Tulsa (Paperback)
A Novel
Penguin Books, 9780142422595, 272pp.
Publication Date: March 26, 2013
* Individual store prices may vary.
Description
"If Catcher in the Rye has lost its raw clout for recent generations of Internet-suckled American youth, here is a coming-of-age novel to replace it."
—Publishers Weekly (starred review)
The first days of summer: Jim Praley is home from college, ready to unlock Tulsa's secrets. He drives the highways. He forces himself to get out of his car and walk into a bar. He's invited to a party. And there he meets Adrienne Booker; Adrienne rules Tulsa, in her way. A high-school dropout with a penthouse apartment, she takes a curious interest in Jim. Through her eyes, he will rediscover his hometown: its wasted sprawl, the beauty of its late nights, and, at the city's center, the unsleeping light of its skyscrapers.

In the tradition of Michael Chabon's The Mysteries of Pittsburgh, A Map of Tulsa is elegiac, graceful, and as much a story about young love as it is a love letter to a classic American city.
About the Author
Benjamin Lytal has written for the Wall Street Journal, the London Review of Books, the Los Angeles Times, Bookforum, the Believer, McSweeney's, Fence, the Daily Beast, and the Nation. For four years he wrote the New York Sun's "Recent Fiction" column. Originally from Tulsa, Lytal currently lives in Chicago.
Praise For A Map of Tulsa: A Novel…
"Fearless, serious, and impressive. . . . Masterly. . . . Captivating. . . . Lytal asks the essential questions: how to be good; how to be an adult; how to live outside one's head; how to love unselfishly; how to understand if this girl, this town—any of it, anything at all—are indispensable, and if they're meaningful enough to turn into art. . . .  Girl, town, youth and book are literary devices, as Jim—and Lytal—make clear. But the experience of love and place is not. In the tension between these truths, A Map of Tulsa finds its central insights and strengths. The girl may never have been ours to have. The town may be just a random place we're from. Youth may be no more than a dream of possibility. But the book: the book is real. And the book, after all, is what we came for."
—Gary Sernovitz, The New York Times Book Review

"Mr. Lytal, a Tulsa native, gets the push and pull of home just right."
—The New York Times

"This lyrical slow burn of a book is . . . a meditation on place, destiny, and fate."
—The New Yorker

"Tender and engaging. . . . . A memorable coming-of-age tale about hometown ambivalence and finding a place in the world. . . . The tension between the cosmopolitan and provincial, the sensuous and the chaste, is a big reason why A Map of Tulsa is so memorable. . . . [Lytal's] great achievement in A Map of Tulsa is to bring his hometown to life as a place where all sorts of American ghosts can be found living amid the seemingly generic landscape of a midsized, middle-American city."
—Héctor Tobar, The Los Angeles Times

"Jim and Adrienne's relationship begins with some mild drug use and frottage before lurching into a creepily detailed ménage a trois, at which point the novel begins to shake and rumble like a small, unexpectedly powerful volcano. . . . A Map of Tulsa deserves comparison with the very best novels of its kind, from James Salter's A Sport and a Pastime to Scott Spencer's Endless Love. It's also one of the most insightful books about the comforts (and traps) of small-city parochialism I've ever read."
—Tom Bissell, Harper's

"A Map of Tulsa is superbly evocative of Jim and Adrienne's discoveries of sex, love and jealousy. Mr. Lytal's exhilarating writing is reminiscent of winsome, confessional bildungsromans like Ben Lerner's Leaving the Atocha Station (2011) or John Cotter's Under the Small Lights (2010)."
—Sam Sacks, The Wall Street Journal

"Fantastic. . . . A Great Gatsby of the plains."
—Julia Holmes, Men's Journal
 
"Ambitious. . . . Witty. . . .  Wise. . . . A joyous elegy to the great, passed-over cities of middle America. . . . Like Bret Easton Ellis's Clay from Less Than Zero, another kid on break from college, Jim has the freedom to remake himself. . . . And with good old Jim as our eyes and ears, we experience the ecstasy of that first, 20-something romance."
—The Boston Globe
 
"[An] elegantly crafted debut novel."
—Chicago Tribune

"Like Goodbye, Columbus, the novel doesn't pretend that the relationship is anything other than doomed. . . . There's a fatalism to this tightly constructed novel that makes it a page-turner. Recommended for all who have known the tyrannies of relationships and place."
—Dan Duray, The New York Observer

"When he made his publishing debut a decade ago with a short story in McSweeney's that held its own in the issue with the likes of Denis Johnson and David Means, Benjamin Lytal aimed to make Tulsa, Oklahoma, 'look like a mournful spaceship.' That spectral, wasted picture of the city ('I loved the largeness of Tulsa, its big, summery fragrance, the asphalt, the puff of chemical air-conditioning') looms over his first novel, in which Jim Praley, home from college, renews an obsession with Tulsa and Adrienne Booker, the girl who never left. Jim and Adrienne race through backyards at dawn and drive the sprawling freeways looking for inspiration for her paintings. As his fixation on Adrienne supersedes his own writing, Jim wanders further, impressionable and lost, an expatriate in his own hometown; Adrienne, in her own way, becomes as tragic a figure as Gatsby's Daisy."
—Vogue.com

"From its start, A Map of Tulsa pulses with the vitality of youth. . . . The Cain's, the Center of the Universe—it's all unmistakably Tulsa."
—Urban Tulsa

"Lytal commands a shadows-on-the-cave-wall symbolism reminiscent of Donald Antrim, and never before has the city of Tulsa been given such resonant characterization."
—The Daily Beast

"Lytal explores some wonderful, genuine topics in this novel: first love, first home, and how these experiences shape us — even when we reject them."
—The Cedar Rapids Gazette

"If Catcher in the Rye has lost its raw clout for recent generations of Internet-suckled American youth, here is a coming-of-age novel to replace it. . . . The strength of this debut novel is Lytal's evocation of place: Tulsa through Jim's eyes is tenderly revealed. There is magic here if the reader has experienced any such provincial city, for the prose provokes remembered images, acutely vivid."
—Publishers Weekly (starred review)

"[A] soulful debut. . . . A Map of Tulsa charts the contours of Jim Praley's own complex and beautiful coming-of-age journey. Benjamin Lytal has written an utterly haunting book that is as much an ode to a city as it is to first love. . . . If this were merely the tale of first love, Benjamin Lytal's novel would already stand head and shoulders over other books in the same genre. His story is moving without being melodramatic, and you can sense Jim's longing and wistfulness in every beautifully crafted sentence."
—BookBrowse

"Beautifully written. . . . Lytal's first novel is dense with the maplike details of a specific place, the city of Tulsa, and also of the intricate geography of two young hearts. . . . Jim is an aspiring poet, and Lytal brings the same sensibility to his novel, making it, in the final analysis, a memorable reading experience."
—Booklist

"A Map of Tulsa is a remarkable novel. Benjamin Lytal has written a glorious and exquisitely crafted work of art, one that poignantly brings to life all the joy and heartbreak of youth with compassion, grace, and wisdom."
—Dinaw Mengestu, author of How to Read the Air and The Beautiful Things That Heaven Bears

"Benjamin Lytal understands, and brilliantly captures, how the most aching significance can be wrought from a place, a time, a girl, solely because they were yours. One wouldn't imagine Saul Bellow and Jarvis Cocker as complementary influences, but that's the mad genius of A Map of Tulsa, an exhilarating debut unabashedly besotted by home and cheekily, preemptively nostalgic for a youth not yet lost."
—Mark Binelli, author of Detroit City is the Place to Be and Sacco and Vanzetti Must Die!

"Benjamin Lytal illumines a city and the lovers who rev through it in A Map of Tulsa, a wise, moving, beautifully made novel about artistic ambitions in youth. The descriptive prose is a marvel and the characters complex—touching and troublesome and unforgettable."
—Christine Schutt, author of Prosperous Friends

"A hypnotic, near-mythic evocation of a summer in a city and its devastating aftermath. Sentence by sentence, one of the best first novels I've read."
—Karan Mahajan, author of Family Planning

"Each sentence a virtuoso sleight of language, Benjamin Lytal's A Map of Tulsa hands us nothing less than an unexpected new blueprint of the American soul. Allowing for chambers previously near unexplored in contemporary fiction, it traces the curious corridors of desire between the heartland and the coast, loving and climbing, homesickness and ambition, artists and intellectuals, the loyal and the free. This is fiction of the greatest power and most enduring interest."
—Ida Hattemer-Higgins, author of The History of History

"The plot involves a penthouse in a skyscraper, an oil fortune, a motorcycle accident, dancing in bars, taking pills, and having sex outside. But mostly it's about walking around the city — your hometown, reconquered — and wondering what your destiny will be."
—Christian Lorentzen, The Millions