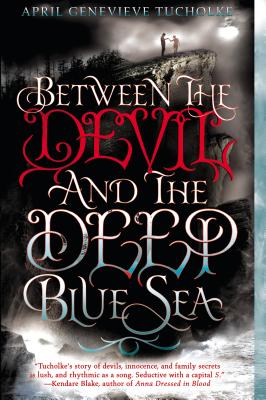 Between the Devil and the Deep Blue Sea (Paperback)
Speak, 9780142423219, 384pp.
Publication Date: July 3, 2014
Other Editions of This Title:
Hardcover (8/15/2013)
MP3 CD (7/3/2014)
Pre-Recorded Audio Player (8/15/2013)
Compact Disc (7/3/2014)
MP3 CD (8/15/2013)
MP3 CD (8/15/2013)
Compact Disc (8/15/2013)
Compact Disc (8/15/2013)
* Individual store prices may vary.
Description
A gothic thriller romance, set against a creepy summer backdrop.

Nothing much exciting rolls through Violet White's sleepy, seaside town . . . until River comes along. River rents the guesthouse behind Violet's crumbling estate, and as eerie, grim things start to happen, Violet begins to wonder about the boy living in her backyard. Is River just a crooked-smiling liar with pretty eyes and a mysterious past? Or could he be something more? Violet's grandmother always warned her about the Devil, but she never said he could be a dark-haired boy who takes naps in the sun, who likes coffee, who kisses you in a cemetery . . . who makes you want to kiss back. Violet's already so knee-deep in love, she can't see straight. And that's just how River likes it.

With shades of Stephen King and F. Scott Fitzgerald, this is a must-read for fans of Beautiful Creatures, The Unbecoming of Mara Dyer, and Anna Dressed in Blood.


"Looking for dark and eerie read...? Look no further than April Genevieve Tucholke's YA debut, Between the Devil and the Deep Blue Sea."
—EntertainmentWeekly.com

"Deliciously creepy."
—TheAtlanticWire.com

*"A stunning debut with complex characters, an atmospheric setting, and a distinct voice… Tucholke has real talent."
—VOYA, starred review
About the Author
April Genevieve Tucholke digs classic movies, redheaded villains, big kitchens, and discussing murder at the dinner table. She and her husband—a librarian, former rare-book dealer, and journalist—live in Oregon. Between the Devil and the Deep Blue Sea is her first novel. She is also author of Between the Spark and Burn.
Praise For Between the Devil and the Deep Blue Sea…
"Looking for dark and eerie read to cap off the end of the summer season? Look no further than April Genevieve Tucholke's YA debut, Between the Devil and the Deep Blue Sea."
—EntertainmentWeekly.com

"If you liked Beautiful Creatures (the book or the movie), Between The Devil And The Deep Blue Sea is right up your alley. It has a similar gothic romance you'll be rooting for the whole book through!"
—Seventeen.com
 
"Deliciously creepy."
—TheAtlanticWire.com

"A perfect read for stormy summer nights."
—The Boston Globe

"Mysterious hotties, eerie events and gothic supernatural romance in a crumbling mansion on the lonely coast of Maine… We totally want this book to be our new boyfriend."
—MTV.com

"Magnificent prose, fascinating histories of residents in the seaside town, and a boy with a disturbing ability rarely seen in today's young adult books. Share the first of this trilogy with fans of Laini Taylor's Daughter of Smoke and Bone."
—Shelf Awareness

*"A stunning debut with complex characters, an atmospheric setting, and a distinct voice… Tucholke has real talent."
—VOYA, starred review
 
*"Tucholke's gothic tone, plot, and setting, complete with a deteriorating estate full of dark family secrets, is reminiscent of Daphne du Maurier or YA fare such as Kami Garcia's and Margaret Stohl's Beautiful Creatures). Give this one to fans of creepy mysteries, particularly tales that don't skimp on the violence."
—SLJ, starred review
 
"A chilling supernatural exploration of free will and reality's fluidity."
—Publishers Weekly

"Tucholke strikes just the right balance between the windswept, seaside setting and Violet's interior struggles with right and wrong."
—BCCB

"A rich blend of gothic horror and modern romance… A lush setting and provocative characters elevate this debut above others in the supernatural-romance genre."
—Kirkus Reviews

"Lavishly rendered, darkly romantic, and beautifully unsettling—Tucholke's debut isn't a book you'll soon forget."
—Melissa Marr, New York Times bestselling author of the Wicked Lovely series

"Like something between a disturbed dream and a wicked fantasy, Between the Devil and the Deep Blue Sea will slip under your skin and capture the darkest corners of your imagination. This is a hypnotic, terrifying debut that won't soon escape my mind."
—Nova Ren Suma, author of Imaginary Girls

"Tucholke's story of devils, innocence, and family secrets is lush and rhythmic as a song. Seductive with a capital 'S.'"
—Kendare Blake, author of Anna Dressed in Blood and Girl of Nightmares