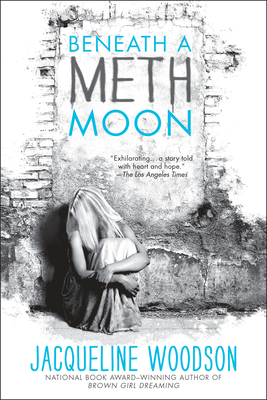 Beneath a Meth Moon (Paperback)
Penguin Books, 9780142423929, 240pp.
Publication Date: February 7, 2013
* Individual store prices may vary.
Description
Jacqueline Woodson is the 2018-2019 National Ambassador for Young People's Literature

Hurricane Katrina took her mother and granmother. And even though Laurel Daneau has moves on to a new life--one that includes a new best friend, a spot on the cheerleading squad, and dating the co-captain of the football team--she can't get past the pain of that loss. Then her new boyfriend introduces her to meth, and Laurel is instantly seduced by its spell, the way it erases, even if only temporarily, her memories. Soon Laurel is completely hooked, a shell of her former self, desperate to be whole again, but lacking the strength to break free. But with the help of a new friend--and the loyalty of an old one--she is able to rewrite her own story and move on with her own life.

Dreamlike in quality and weaving flashbacks to the hurricane in with Laurel's present-day struggles, this is a stunning novel that readers won't want to miss.
About the Author
Jacqueline Woodson (www.jacquelinewoodson.com) is the 2018-2019 National Ambassador for Young People's Literature, and she received the 2018 Children's Literature Legacy Award. She is the 2014 National Book Award Winner for her New York Times bestselling memoir BROWN GIRL DREAMING, which was also a recipient of the Coretta Scott King Award, a Newbery Honor Award, the NAACP Image Award and the Sibert Honor Award. Woodson was recently named the Young People's Poet Laureate by the Poetry Foundation. Her recent adult book, Another Brooklyn, was a National Book Award finalist. Born on February 12th in Columbus, Ohio, Jacqueline Woodson grew up in Greenville, South Carolina, and Brooklyn, New York and graduated from college with a B.A. in English. She is the author of more than two dozen award-winning books for young adults, middle graders and children; among her many accolades, she is a four-time Newbery Honor winner, a four-time National Book Award finalist, and a two-time Coretta Scott King Award winner. Her books  include THE OTHER SIDE, EACH KINDNESS, Caldecott Honor Book COMING ON HOME SOON; Newbery Honor winners FEATHERS, SHOW WAY, and AFTER TUPAC AND D FOSTER, and MIRACLE'S BOYS—which received the LA Times Book Prize and the Coretta Scott King Award and was adapted into a miniseries directed by Spike Lee. Jacqueline is also the recipient of the Margaret A. Edwards Award for lifetime achievement for her contributions to young adult literature, the winner of the Jane Addams Children's Book Award, and was the 2013 United States nominee for the Hans Christian Andersen Award. She lives with her family in Brooklyn, New York.
Praise For Beneath a Meth Moon…
"A moving, honest, and hopeful story." — Kirkus, starred review

"Woodson maintains tension throughout, making it abundantly clear how easy it is to succumb to meth and how difficult it is to recover from it." — Publishers Weekly, starred review

"This powerful, stripped-down novel chronicles a girl's journey from popular cheerleader to homeless meth user to recovering addict...An outstanding novel that succeeds on every level." — School Library Journal, starred review

"Woodson takes us on the dark journey of addiction, mimicking the slow, hazy spell of drug use with the lull of her poetic prose. . . . Laurel's descent is brutally honest. . . . An intimate and compelling story of survival." — The Horn Book

"As accurate as it is heartbreaking; readers will be deeply moved . . . they'll sympathize with [Laurel's] desire to find some way to feel better. . . . Readers looking to understand the attraction of a destructive substance will get a glimmer of understanding." — The Bulletin of the Center for Children's Books

"Will not disappoint readers. . . . Ends on a hopeful note: perhaps it is possible to write pain 'into the past and leave some of it there,' and reimagine a future." — Booklist

"Powerful."