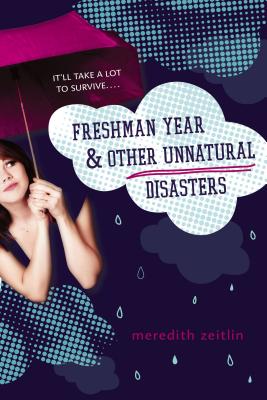 Freshman Year & Other Unnatural Disasters (Paperback)
Speak, 9780142424216, 288pp.
Publication Date: March 7, 2013
Other Editions of This Title:
Hardcover (3/1/2012)
* Individual store prices may vary.
Description
So far this year isn't going the way she planned but it is undeniably memorable.

Kelsey Finkelstein is starting her freshman year of high school and she's determined to begin with a clean slate. Her arch-nemesis moved away this summer, finally giving her the chance to stand out on the soccer team and possibly catch the eye of her long-time crush. But things don't go as smoothly as Kelsey hopes and she finds herself navigating a series of increasingly hilarious situations. From mortifying pictures in the school paper to an unconventional lead role in the musical, all while avoiding her soccer captain's bad temper, Kelsey has her work cut out for her if she's going to survive freshman year.
About the Author
Meredith Zeitlin is a writer and voice-over artist who lives in Brooklyn with two adorable feline roommates. She also writes a column for Ladygunn Magazine, changes her hair color every few months, and has many fancy pairs of spectacles.

In case you're wondering whether any of Kelsey's experiences are based on Meredith's own, the answer is NO WAY. When she was fourteen, Meredith looked and behaved perfectly at all times, was never in a single embarrassing situation, and always rode to school on her very own unicorn.
Praise For Freshman Year & Other Unnatural Disasters…
"
Freshman Year & Other Unnatural Disasters
 is a lighter but still accomplished look into adolescent female friendship ... Love triangles, unfortunate photographs, soccer bullies and a mother who thinks she understands 'Typical Adolescent Behavior' are just some of the obstacles [Kelsey Finkelstein] runs across in this sitcom-paced, laugh-out-loud book."" —
NPR
 
"Zeitlin offers a story that encompasses all the horrors and thrills of starting high school ... A hilarious look at freshman year, this story serves to prep the incoming for the best and the worst high school has to offer." —Booklist
 
"Kelsey is a funny, likable heroine who experiences realistic school and relationship problems that any teenage girl will be able to relate to…[an] enjoyable diversion."—Kirkus Reviews
 
"Readers will enjoy this humorous story where friendship, family, and self-acceptance are much more important than plans for greatness. This coming-of-age novel will not only entertain but also educate those transitioning into high school. It is a quick read bound to appeal to a female audience." —VOYA
 
"As the humorous mishaps mount in this laugh-out-loud coming-of-age novel, Kelsey gains insight and perspective through introspection and dialogue with friends. The values of good friendships are further evidenced in the honesty Kelsey and Cass show when they reconcile. In a sweet reversal, Kelsey finds that one of her many disasters has introduced her to a new guy who is, indeed, worth the wait."—School Library Journal
"Cute and sassy, open-minded and truthful, Kelsey Finkelstein will be your new best friend."—E. Lockhart, author of The Boyfriend List and The Disreputable History of Frankie Landau-Banks
"Meredith Zeitlin accurately portrays the rocky road of starting high school with humor and heart. Kelsey's character is realistic and believable, navigating disaster after disaster with strength and her trademark wry commentary. Friends, foes, drama, and love—Freshman Year is full of it!"—Erin Dionne, author of Models Don't Eat Chocolate Cookies
 
"When I was transitioning into high school I would have been better off had I read Freshman Year & Other Unnatural Disasters. Kelsey and I would definitely have been friends." —Kristen Schaal, comedian featured on The Daily Show and Flight of the Conchords
—
various