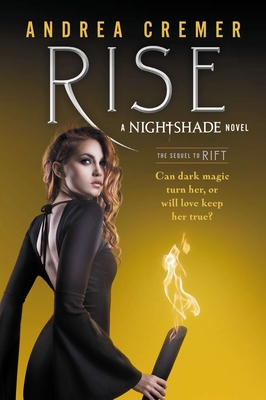 Rise (Nightshade)
Paperback

* Individual store prices may vary.
Description
International bestselling author Andrea Cremer's sequel to Rift, a Nightshade novel.


Everything Conatus stands for is at risk. Hoping to gather enough resistance to save their order, Ember and Barrow attempt a desperate escape. But fate offers little mercy. When their mission is exposed, the couple faces relentless pursuit by the supernatural horrors that act on the commands of Eira's ally: the mysterious Bosque Mar. A shocking revelation forces Ember out of hiding, sending her back into the heart of dark magic at Tearmunn keep, where she must convince her old friend Alistair of her love or face dire consequences.
Ember's deception offers the only change for the resistance to succeed, but what she discovers in the shadows beneath the keep will shatter her world and bring about the Witches' War.


"Popular paranormal motifs abound: the medieval setting, the looming demonic threat, the portal to the netherworld, battles and dark, secret catacombs, not to mention the beginnings of the werewolves. Interesting characters populate the pages, all designed to keep fans glued to the book."—Kirkus Reviews
Praise For Rise (Nightshade)…
PRAISE FOR RIFT:

"A bit different from Nightshade, this is a book for historical and paranormal romance lovers alike. ...A great new book that will leave you breathless." – ROMANTIC TIMES
 
"A richly layered, supernatural romance both appealing and unique." – SCHOOL LIBRARY JOURNAL

"Cremer's trademark quick pace, romantic sensuality, and strong female characters will have fans clamoring for the next title." - BOOKLIST



RAVE REVIEWS FOR THE NIGHTSHADE SERIES:

"Yet another young adult novel filled with supernatural beasties, but this teen wolf tale is actually good and will keep you reading intently."—ENTERTAINMENTWEEKLY.COM

"An imaginative . . . paranormal-suspense story. The book's underlying themes of individualism and freedom . . . lift it to a higher level."—KIRKUS REVIEWS

"There's enough action to engage any reluctant reader . . .will no doubt have teens debating the relative merits of werewolves versus vampires." —BOOKLIST

"Clever young adult saga that leaves readers on the edge of their seats."—ASSOCIATED PRESS

"Nightshade is historical fiction—with a modern pop culture twist . . .a book for well-read hopeless romantics who like their heroines conflicted, their love interests smoldering, and their passions triangulated and torrid, yet unfulfilled." —LOS ANGELES TIMES

"Sexy and thrilling." —BECCA FITZPATRICK, NEW YORK TIMES BESTSELLING AUTHOR OF HUSH, HUSH

"Nightshade is a glittering, dark gem."—CYNTHIA LEITICH SMITH, NEW YORK TIMES BESTSELLING AUTHOR OF ETERNAL
Speak, 9780142424940, 432pp.
Publication Date: November 19, 2013
About the Author
Andrea Cremer is the internationally bestselling author of the Nightshade series, which includes Nightshade, Wolfsbane, Bloodrose, Snakeroot, Rift, and Rise. She is also the author of Invisibility, which she co-wrote with David Levithan, and most recently, The Inventor's Secret and its sequel The Conjurer's Riddle. When she's not writing novels, Andrea puts her PhD to work teaching classes in writing and history at Macalaster College. She lives in Minneapolis, Minnesota.

Visit Andrea online at www.andreacremer.com and follow her on Twitter @andreacremer
or
Not Currently Available for Direct Purchase