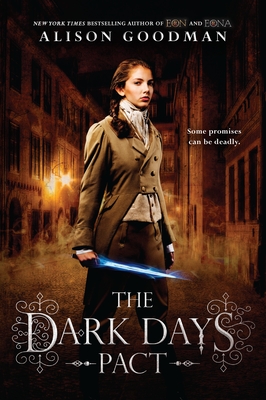 The Dark Days Pact (A Lady Helen Novel #2) (Paperback)
Speak, 9780142425114, 512pp.
Publication Date: April 24, 2018
Other Editions of This Title:
Hardcover (1/31/2017)
Compact Disc (2/6/2018)
Compact Disc (1/31/2017)
MP3 CD (1/31/2017)
Compact Disc (1/31/2017)
* Individual store prices may vary.
Description
Sequel to New York Times bestselling author Alison Goodman's acclaimed The Dark Days Club—a smashing combination of Buffy and Jane Austen!
 
Summer, 1812.
After the scandalous events at her presentation ball in London, Lady Helen has taken refuge at the fashionable seaside resort of Brighton, banished from her family and training as a Reclaimer with the covert Dark Days Club. She must learn to fight the dangerous energy-wielding Deceivers and prepare to face their master, the elusive Grand Deceiver.

As she struggles to put aside her genteel upbringing, Helen realizes that her mentor, Lord Carlston, is fighting his own inner battle.  Has the foul Deceiver energy poisoned his soul, or is something else driving him towards violent bouts of madness? Either way, Helen is desperate to help the man with whom she shares a deep but forbidden connection.

When Mr. Pike, the hard bureaucratic heart of the Dark Days Club, arrives in Brighton, he has a secret mission for Helen: find the journal left by a mad rogue Reclaimer, before it falls into the hands of the Deceivers. Coerced by Pike, Helen has no choice but to do as ordered, knowing that the search for the journal may bring about Lord Carlston's annihilation.
About the Author
Alison Goodman is the author of the internationally bestselling and award-winning Eon/Eon duology, as well as the YA science fiction thriller Singing the Dogstar Blues, and an adult novel, A New Kind of Death (originally titled Killing the Rabbit). She was a D.J. O'Hearn Memorial Fellow at Melbourne University, holds a Master of Arts, and teaches creative writing at the postgraduate level.

She is on Twitter @AlisonGoodman and keeps a constantly-growing Regency treasure trove at www.pinterest.com/alisongoodman.

Alison Goodman and her husband live in Victoria, Australia, with their irrepressible terrier, Xander.
Praise For The Dark Days Pact (A Lady Helen Novel #2)…
"The fantasy/Regency/history mashup readers didn't even know they wanted." —Kirkus Reviews

"A fast-moving plot, intriguing paranormal elements, and a developing love triangle make this book hard to put down. Diverse, well-drawn supporting characters add depth, and readers will find it difficult not to root for the first female Reclaimer—a strong yet relatable protagonist." —School Library Journal

"The attraction between Helen andCarlston is masterfully developed, and there is plenty of action and suspense to hook less romance-inclined readers as well. The last several chapters are a gripping headlong rush into a cliffhanger ending that promises more Lady Helen adventures to come." —Booklist

Praise of Alison Goodman's The Dark Days Club:

"This fantastic introduction leaves us hungry for more." —Entertainment Weekly

★ "Delicious. . . . Lady Helen is a well-drawn heroine, and her struggle to free herself from the stilted life of an early 19th century noblewoman and embrace her wilder, darker self is powerfully delineated." —Publishers Weekly, starred review
 
★ "Fast-paced, rich in description, with fascinating characters and excitement, this tale from Australian author Goodman will leave fantasy fans wanting more." —School Library Journal, starred review
 
"[The Dark Days Club] takes off in a delightful way, juxtaposing the laced-up expectations of society against the newly stirring blood of a worthy heroine. . . . Try this with fans of genre twisters such as Jane Austen and Seth Grahame-Smith's Pride and Prejudice and Zombies." —Booklist
 
"[Goodman's] impeccable research shines through on every page . . . and brings to life questions of freedom and choice for women. Readers willing to embrace the deep, deliberately paced journey will find the pace and tension increasing until the end leaves them eager for the next volume." —Kirkus Reviews