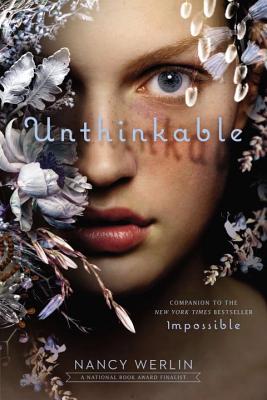 Unthinkable (Paperback)
Speak, 9780142426203, 416pp.
Publication Date: November 28, 2014
Other Editions of This Title:
Hardcover (9/12/2013)
* Individual store prices may vary.
Description
This much anticipated sequel to the New York Times Bestseller Impossible—a fantasy full of suspense, mystery, and romance—will appeal to fans of Beautiful Creatures, Raven Boys, and Wicked Lovely.
Fenella was the first Scarborough girl to be cursed, hundreds of years ago, and she has been trapped in the faerie realm ever since, forced to watch generations of daughters try to break this same faerie curse that has enslaved them all. But now Fenella's descendant, Lucy, has accomplished the impossible and broken the curse, so why is Fenella still trapped in Faerie? 
In her desperation, Fenella makes a deal with the faerie queen: If she can accomplish three acts of destruction, she will be free, at last, to die.  What she doesn't realize is that these acts must be aimed at her own family—and if she fails, the consequences will be dire, for all of the Scarborough girls.
 
How can she possibly choose to hurt her own cherished family—not to mention the new man whom she's surprised to find herself falling in love with? But if she doesn't go through with the tasks, how will she manage to save her dear ones?

* "Werlin pulls off quite a feat, making us care deeply for a character driven by selfish needs, intent on betrayal. The book, whose plot is irresistible, also raises large questions about the nature of security. . . . At its heart, this is a story about the many different levels of love."—Booklist starred review
"Werlin, a deft storyteller and creative world-builder, weaves a twisting strand of faerie magic through the human realm, smoldering with sparks of romance and danger, just waiting to ignite."—Horn Book
About the Author
Nancy Werlin writes YA fiction that ranges from realistic fiction to suspense to fantasy, often breaking the boundaries between genres. Her books have gathered awards too numerous to mention, but including National Book award finalist, Edgar award winner and finalist, New York Times bestseller, L.A. Book Prize finalist, and IndieBound Top Ten. Nancy's first novel, Are You Alone on Purpose, was a Publishers Weekly Flying Start pick.
 
Of Nancy's suspense fiction, Sarah Weinman says, "Chances are, many of you haven't heard of this author. That would be a shame, because she's simply one of the best crime novelists going right now. Period." These titles are where Nancy habitually breaks genre-separation rules and include The Rules of Survival (a National Book Award finalist), The Killer's Cousin (Edgar award winner), Locked Inside (Edgar award nominee), Black Mirror (which the Washington Post called "an edge-of-your seat thriller"), and Double Helix (named to multiple best-of-year book lists). 
 
Nancy's unusual fantasy fiction was inspired by the ballad Scarborough Fair and includes the loose trilogy Impossible (a New York Times bestseller), Extraordinary (featuring a rare thing in fantasy fiction: a Jewish heroine), and her personal beloved, Unthinkable. 
 
For fun, Nancy also writes and draws a graphic memoir in comics, using her Tumblr to self-publish an episode three times a week. 
 
Her favorite book in all the world is Jane Eyre. 
 
A graduate of Yale, Nancy lives near Boston, Massachusetts with her husband.
Praise For Unthinkable…
Praise for Unthinkable:

* "Werlin pulls off quite a feat, making us care deeply for a character driven by selfish needs, intent on betrayal. The book, whose plot is irresistible, also raises large questions about the nature of security. . . . At its heart, this is a story about the many different levels of love."—Booklist starred review
"Werlin, a deft storyteller and creative world-builder, weaves a twisting strand of faerie magic through the human realm, smoldering with sparks of romance and danger, just waiting to ignite."—Horn Book