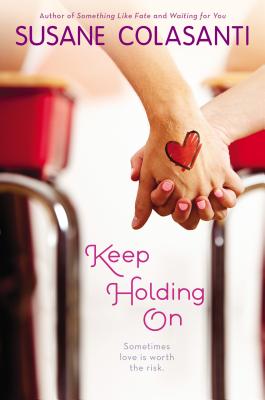 Keep Holding On (Paperback)
Speak, 9780142426333, 240pp.
Publication Date: April 23, 2013
Other Editions of This Title:
Hardcover (5/31/2012)
* Individual store prices may vary.
Description
An honest romance and an empowering book about bullying --from the author of the City Love trilogy

Noelle's life is all about survival. Even her best friend doesn't know how much she gets bullied, or the ways her mom neglects her. Noelle's kept so much about her life a secret for so long that when her longtime crush Julian Porter starts paying attention to her, she's terrified. Surely it's safer to stay hidden than to risk the pain of a broken heart. But when the antagonism of her classmates takes a dramatic turn, Noelle realizes it's time to stand up for herself--and for the love that keeps her holding on.
About the Author
From the author:

When I was a teen, I would have been mortified to admit that I was being bullied at school. My junior high and high school years were the worst time of my life. Kids picked on me for being a science nerd. They picked on me for not wearing the expensive sweaters and jeans everyone else had. They picked on me for doing weird things like writing song lyrics on my sneakers (this was back in the day before writing on your sneakers was cool). I was embarrassed by all the ways I didn't fit in.

I am not embarrassed anymore.

Writing Keep Holding On was my way of turning a negative experience into something positive. I want this book to reach out to teens who are going through hard times. I want this book to help people feel less alone. And hopefully, this story will encourage readers in need to keep holding on.

Susane Colasanti is the bestselling author of When It Happens, Take Me There, Waiting for You, Something Like Fate, So Much Closer, Keep Holding On, All I Need, and Now and Forever. Susane has a bachelor's degree from the University of Pennsylvania and a master's degree from New York University. Before becoming a full-time author, Susane was a high school science teacher for ten years. She lives in New York City.

Connect with Susane at SusaneColasanti.com and follow her on Twitter @SusaneColasanti
Praise For Keep Holding On…
"A fast read that will give readers plenty to think about and a list of resources to tap into if they need them."—
Publishers Weekly
"Noelle's journey from victim to victor . . .  is an important story for anyone who has felt the sting of their peers' cruelty."—VOYA
"Emotionally satisfying from beginning to end."—Kirkus Reviews
"This novel could be recommended to those who enjoyed Sonya Sones's What My Mother Doesn't Know or Courtney Summers's Some Girls Are."—School Library Journal