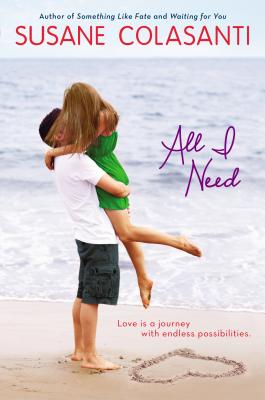 All I Need (Paperback)
Speak, 9780142426760, 240pp.
Publication Date: May 15, 2014
Other Editions of This Title:
Hardcover (5/21/2013)
* Individual store prices may vary.
Description
The Notebook meets Serendipity in this modern teen romance from the author of the City Love trilogy!

Skye wants to meet the boy who will change her life forever. Seth feels their instant connection the second he sees her. When Seth starts talking to Skye at the last beach party of the summer, it's obvious to both of them that this is something real.

But when Seth leaves for college before they exchange contact info, Skye wonders if he felt the same way she did—and if she will ever see him again. Even if they find their way back to each other, can they make a long-distance relationship work despite trust issues, ex drama, and some serious background differences?
About the Author
Susane Colasanti (susanecolasanti.com) is the author of When It Happens, Take Me There, Waiting for You, Something Like Fate, So Much Closer, and Keep Holding On. She has a bachelor's degree from the University of Pennsylvania and a master's degree from New York University. Before becoming a full-time author, Susane was a high school science teacher for almost ten years. She lives in New York City.
Praise For All I Need…
Praise for ALL I NEED by Susane Colasanti:

 "Captures the rush of teen love and lust . . . Colasanti's attention to detail is what makes her readers return."—The Boston Herald

"...sure to leave enthusiasts sighing and reaffirmed about the power of true love." —Kirkus Reviews

"Readers looking for light romance will enjoy Colasanti's (Keep Holding On) depiction of a long-distance relationship that beats the odds..."  —Publishers Weekly

"There's a sweet earnestness to All I Need, which is neither for the cynical nor those who can't remember the exquisite pull of first love. Susane Colasanti does a good job of getting inside the head of a girl about to start her senior year of high school and a boy about to go to college." - The Star-Ledger