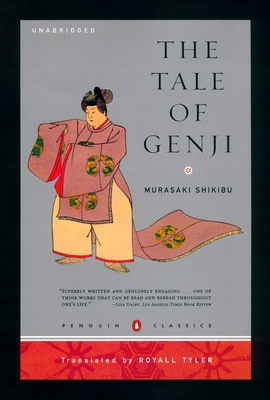 The Tale of Genji
(Penguin Classics Deluxe Edition)
Paperback

* Individual store prices may vary.
Other Editions of This Title:
Paperback (9/18/2012)
Paperback (6/19/2018)
Paperback (4/3/2018)
Paperback (10/1/2021)
Hardcover (5/9/2016)
Paperback (5/9/2016)
Paperback (1/18/2002)
Description
The world's first novel, in a translation that is "likely to be the definitive edition . . . for many years to come" (The Wall Street Journal)

The inspiration behind The Metropolitan Museum of Art's "The Tale of Genji: A Japanese Classic Illuminated" -- Now through June 16 at The Met Fifth Avenue

A Penguin Classics Deluxe Edition, with flaps and deckle-edged paper

Written in the eleventh century, this exquisite portrait of courtly life in medieval Japan is widely celebrated as the world's first novel. Genji, the Shining Prince, is the son of an emperor. He is a passionate character whose tempestuous nature, family circumstances, love affairs, alliances, and shifting political fortunes form the core of this magnificent epic. Royall Tyler's superior translation is detailed, poetic, and superbly true to the Japanese original while allowing the modern reader to appreciate it as a contemporary treasure. Supplemented with detailed notes, glossaries, character lists, and chronologies to help the reader navigate the multigenerational narrative, this comprehensive edition presents this ancient tale in the grand style that it deserves.
Praise For The Tale of Genji: (Penguin Classics Deluxe Edition)…
"An enormous achievement." —The New York Times Book Review

"Both epic and intimate, [Genji] is a gorgeous evocation of a time and place that have long since disappeared. But it's also an exploration of feelings and relations between men and women, as fresh and beguiling to readers today as when it was first written. A new translation that makes Genji accessible to contemporary readers is a landmark event. [Tyler's translation] has clearly been a labor of love. In his beautifully written translation he tries to get as close to the original as possible, immersing us in eleventh-century Japan. Mr. Tyler's translation is richly embellished with footnotes that flag for us everything that Murasaki and her contemporaries would have taken for granted. All in all, Mr. Tyler's translation is likely to be the definitive edition of The Tale of Genji for years to come." —The Wall Street Journal

"The Tale of Genji set an insanely high standard for anything that came after it. This latest edition is reader friendly at every turn, with generous footnotes, character lists and lots of illustrations to show what robes looked like, or swords, or houses. You have to reach for comparisons to Tolstoy or Proust to convey just what a captivating experience this story can be." —Newsweek

"Tyler's delicate ear for the language of the original helps breathe new life into the story of Genji." —The New Yorker

"Though [Murasaki's] setting was the royal Japanese court of one thousand years ago, her characters managed to draw the reader into their passion and terrors in an uncannily modern way. [Tyler's translation is] beautifully readable . . . it sets a new standard. Not only is this new English edition the most scrupulously true to the original, it also is superbly written and genuinely engaging. . . . We are blessed to have Tyler's help in reading it." —The Los Angeles Times Book Review

"The remarkable thing about Genji is . . . that it is a masterpiece, the oldest full-length novel in existence, and still very much alive. It is even livelier in the new translation by Royall Tyler. Tyler skillfully catches the erotic flavor, the vivid characterizations, and the allusive poetry of this classic. . . . Readers will quickly find themselves immersed in a strange and distant culture whose inhabitants' loves, rivalries, suffering and follies we can identify with our own." —The Philadelphia Inquirer

"An astonishingly rich, absorbing drama that has stood, and will doubtless continue to stand, the severest tests of time and changing literary fashions. There is nothing else on earth quite like The Tale of Genji. Utterly irresistible." —Kirkus Reviews (starred review)

"One of the undisputed monuments of world literature. Tyler offers a version that effectively captures the indirection and shades of Murasaki's court language. A major contribution to our understanding of world literature; highly recommended." —Library Journal (starred review)

"Widely recognized as the world's first novel, as well as one of its best . . . painstakingly and tenderly translated by Tyler. An epic narrative, it is also minutely attentive to particulars of character, setting, emotion—even costume. Tyler clearly intends his [translation] to be the definitive one. It is richer, fuller, and more complicated than the others. Tyler's formality of tone offers readers a more graceful, convincing rendering of this one thousand-year-old masterpiece. Scholars and novices alike should be pleased." —Publishers Weekly (starred review)

"Tyler has long shown himself to be one of the finest translators of Japanese in our era. In producing this new Genji translation, he has been able not only to draw upon his own skills as a writer, but also to build on the efforts and accomplishments of his predecessors . . . the Tyler version is by far the most helpful to the general reader." —The Washington Post Book World

"[Tyler] has crafted an elegant translation that remarkably renders this eleventh-century tale in language so lively, vivid and transparent, one could easily believe that the book was written by some gifted postmodernist. Royall Tyler devoted space to explaining, through the introduction and footnotes, nuances of the time, helping help us place them into a modern context. This edition of The Tale of Genji is beautifully realized, both as a translation and as a seamless art object." —The Cleveland Plain Dealer
Penguin Classics, 9780142437148, 1216pp.
Publication Date: November 26, 2002
About the Author
Murasaki Shikibu, born in 978, was a member of Japan's Fujiwara clan, which ruled behind the scenes during the Heian Period by providing the brides and courtesans of all the emperors. Lady Murasaki's rare literary talent, particularly her skill as a poet, secured her a place in the court of Empress Akiko. After the death of her husband, she cloistered herself to study Buddhism, raise her daughter, and write the world's first novel, Genji monogatari, the tale of the shining Prince Genji.

Royall Tyler (translator), an American, is retired from the Australian National University, where he taught Japanese language and literature for many years. He has a B.A. from Harvard University and a Ph.D from Columbia University and has taught at Harvard, Stanford, and the University of Wisconsin. He has also translated The Tale of the Heiki and Japanese Noh Dramas for Penguin Classics.