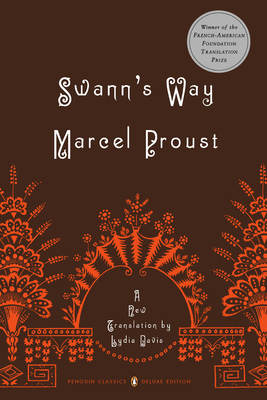 Swann's Way
In Search of Lost Time, Volume 1 (Penguin Classics Deluxe Edition)
Paperback

* Individual store prices may vary.
Other Editions of This Title:
Digital Audiobook (6/30/2011)
Digital Audiobook (9/28/2010)
Paperback (9/26/2012)
Paperback (10/18/2016)
Paperback (3/26/2017)
Paperback (8/9/2017)
Paperback (9/4/2018)
Paperback (12/14/2020)
Paperback (5/20/2019)
Paperback (5/12/2014)
Paperback (3/6/2017)
Paperback (8/31/2015)
Paperback (7/12/2017)
Hardcover (6/6/2018)
Paperback (2/16/2016)
Paperback (4/12/2020)
Paperback (6/6/2018)
Paperback (2/20/2018)
Description
The first volume of one of the greatest novels of the twentieth century, in Lydia Davis's award-winning translation

Marcel Proust's
In Search of Lost Time
is one of the most entertaining reading experiences in any language and arguably the finest novel of the twentieth century. But since its original prewar translation there has been no completely new version in English. Now, Penguin Classics brings Proust's masterpiece to new audiences throughout the world, beginning with Lydia Davis's internationally acclaimed translation of the first volume,
Swann's Way
.
Swann's Way is one of the preeminent novels of childhood: a sensitive boy's impressions of his family and neighbors, all brought dazzlingly back to life years later by the taste of a madeleine. It also enfolds the short novel "Swann in Love," an incomparable study of sexual jealousy that becomes a crucial part of the vast, unfolding structure of In Search of Lost Time. The first volume of the work that established Proust as one of the finest voices of the modern age—satirical, skeptical, confiding, and endlessly varied in his response to the human condition—Swann's Way also stands on its own as a perfect rendering of a life in art, of the past recreated through memory.



Praise For Swann's Way: In Search of Lost Time, Volume 1 (Penguin Classics Deluxe Edition)…
Indispensable... the crucial modernist work, overtopping the books of even such giants as Joyce and Mann. (Peter Brooks, The New York Times Book Review)

A sensitive and direct translation... Lydia Davis does us a great service in bringing us back to Proust. (Claire Messud, Newsday)
Penguin Classics, 9780142437964, 496pp.
Publication Date: November 30, 2004
About the Author
Marcel Proust
(1871­–1922) was born in Auteuil, France. In his twenties, following a year in the army, he became a conspicuous society figure, frequenting the most fashionable Paris salons of the day. After 1899, however, his chronic asthma, the death of his parents, and his growing disillusionment with humanity caused him to lead an increasingly retired life. From 1907 on, he rarely emerged from a cork-lined room in his apartment on boulevard Haussmann. There he insulated himself against the distractions of city life and the effects of trees and flowers—though he loved them, they brought on his attacks of asthma. He slept by day and worked by night, writing letters and devoting himself to the completion of
In Search of Lost Time
. 
Lydia Davis, a 2003 MacArthur Fellow, is the author of a novel, The End of the Story, and three volumes of short fiction, the latest of which is Samuel Johnson Is Indignant. She is also the translator of numerous works by Maurice Blanchot, Michel Leiris, Pierre Jean Jouve, and many others and was recently named a Chevalier of the Order of Arts and Letters by the French government. Her essay on close translation of Proust appeared in the April 2004 issue of the Yale Review.

Christopher Prendergast (series editor) is a professor emeritus of French literature at the University of Cambridge and a Fellow of King's College.