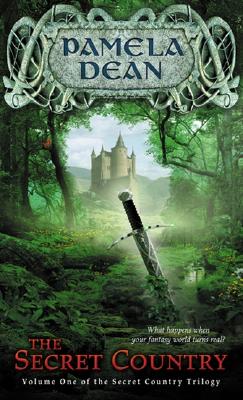 The Secret Country
Mass Market

* Individual store prices may vary.
Description
The first book in the magical, wonderfully interwoven Secret Country trilogy. They thought it was a game, but it was its own world... 

Each vacation for the past nine years, cousins Patrick, Ruth, Ellen, Ted, and Laura have played a game they call the "Secret"—an invented, scripted world full of witches, unicorns, a magic ring, court intrigue, and the Dragon King. In the Secret, they can imagine anything into reality, and shape destiny. Then the unbelievable happens: by trick or by chance, they actually find themselves in the Secret Country, their made-up identities now real. The five have arrived at the start of their games, with the Country on the edge of war. What was once exciting and wonderful now looms threateningly before them, and no one is sure how to stop it… or if they will ever get back home.
 
"An intricate sparkling web of intrigue and magic. One of my very favorites."—Patricia C. Wrede, author of Dealing with Dragons
Praise For The Secret Country…
Praise for The Secret Country

"Like The Secret Country, Pamela Dean is a secret treasure of the fantasy field. Her books are fun, smart, enchanting, exciting, and well grounded in the classic family tradition. The new publication of her trilogy is certain to let more readers in on the secret that Dean is one of the very best writers of magical fiction today."--Terri Windling

"Pamela Dean is a hidden treasure, a writer other writers adore: her quirky, literate characters, her munchy prose, her depth-charge stories. More readers should know about her. And now--maybe they will!"-- Jane Yolen

"It captures, as almost no other book on games-coming-true has captured, the real magic of making stuff up, of running scenes and characters that stretch your idea of who and what you might grow up to be. I loved it so much when I first read it, and had so much trouble finding subsequent volumes. I'm glad a new generation has a whack at it."--Delia Sherman, author of The Porcelain Dove
Firebird, 9780142501535, 384pp.
Publication Date: October 13, 2003
About the Author
Pamela Dean (pddb.demesne.com) is also the author of Tam Lin; The Dubious Hills; and Jupiter, Gentian, and Rosemary. She lives in Minneapolis with her family.
or
Not Currently Available for Direct Purchase