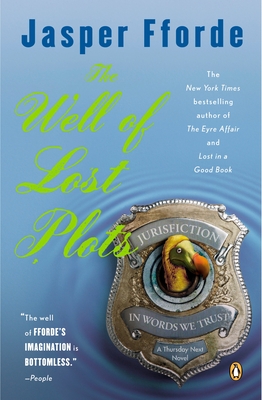 The Well of Lost Plots
A Thursday Next Novel
Paperback

* Individual store prices may vary.
Other Editions of This Title:
Digital Audiobook (3/26/2012)
Description
The third installment in Jasper Fforde's New York Times bestselling series follows literary detective Thursday Next on another adventure in her alternate reality of literature-obsessed England—from the author of The Constant Rabbit

Jasper Fforde has done it again in this genre-bending blend of crime fiction, fantasy, and top-drawer literary entertainment. After two rollicking New York Times bestselling adventures through Western literature, resourceful BookWorld literary detective Thursday Next definitely needs some downtime. And what better place for a respite than in the hidden depths of the Well of Lost Plots, where all unpublished books reside? But peace and quiet remain elusive for Thursday, who soon discovers that the Well is a veritable linguistic free-for-all, where grammasites run rampant, plot devices are hawked on the black market, and lousy books—like the one she has taken up residence in—are scrapped for salvage. To make matters worse, a murderer is stalking the personnel of Jurisfiction and it's up to Thursday to save the day. A brilliant feat of literary showmanship filled with wit, fantasy, and effervescent originality, this Ffordian tour de force will appeal to fans of Douglas Adams and P. G. Wodehouse.
Praise For The Well of Lost Plots: A Thursday Next Novel…
"The well of Fforde's imagination is bottomless in the delightful third instalment of his Thursday Next series . . . [W]hat keeps this series humming is Fforde's lively engagement with books and the indefatigable woman he's created to defend them."
—People

"Fforde creates a literary reality that is somewhere amid a triangulation of Douglas Adams, Monty Python, and Miss Marple."
—The Denver Post

"Fforde has created a legion of fans with work that moves beyond clever into the realm of the creatively twisted, a space sparsely inhabited by those who can both envision and portray a skewed world . . . . The Well of Lost Plots reads nicely as a stand-alone and avoids the serious misstep of being a retread of its predecessors."
—The Denver Post

"Fforde's inventiveness remains a bookworm's delight."
—Entertainment Weekly

"Marvelous creations like syntax-slaughtering grammasites and the murderous Minotaur roam this unusual novel's pages, and Fforde's fictional epigraphs, like his minihistory of 'book operating systems,' are worth the cover price in themselves. Fforde's sidesplitting sendup of an increasingly antibookish society is a sheer joy."
—Publishers Weekly

"Great fun—especially for those with a literary turn of mind and a taste for offbeat comedy . . . My favorite in the series so far."
—The Washington Post Book World

"Murderously fun . . . . A delightful, satirical frolic through literature . . . . Unique and wildly entertaining."
—The Atlanta Journal-Constitution

"Charles Dickens was one of the British Isles' most popular novelists, and Jasper Fforde is winging into a similar stature on his Victorian coattails . . . You don't need to have read either of Fforde's first two books . . . to keep up with much of the action in The Well of Lost Plots. But why wouldn't you?"
—The Oregonian (Portland)

"Even more fun than its predecessors."
—Orlando Sentinel

"Like Alice down the rabbit hole, a reader of Fforde's books falls into a crazy and often quite funny world, where satire meets silliness. Once again, this author's imagination seems to know no bounds."
—St. Louis Post-Dispatch

"Fforde's bibliophile japery is in the school of Douglas Adams—think of it as a hitchhiker's guide to the library."
—The Guardian (London)

"Bibliophiles will find . . . The Well of Lost Plots a hoot . . . Exceptionally clever."
—The Rake

"Fforde has settled comfortably into series mode, producing another fun romp in an alternate universe where books are more real than reality."
—Library Journal
Penguin Books, 9780143034353, 416pp.
Publication Date: August 3, 2004
About the Author
Jasper Fforde traded a varied career in the film industry for staring vacantly out of the window and arranging words on a page. He lives and writes in Wales. The Eyre Affair was his first novel in the bestselling series of Thursday Next novels, which includes Lost in a Good Book, The Well of Lost Plots, Something Rotten, First Among Sequels, One of Our Thursdays is Missing, and The Woman Who Died A Lot. The series has more than one million copies in print (and counting). He is also the author of The Big Over Easy and The Fourth Bear of the Nursery Crime series, Shades of Grey, and books for young readers, including The Last Dragonslayer. Visit jasperfforde.com.