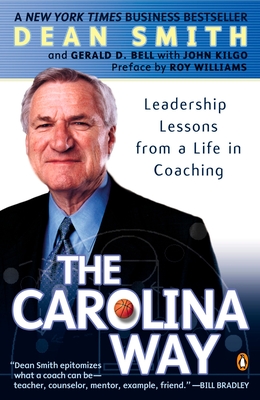 The Carolina Way
Leadership Lessons from a Life in Coaching
Paperback

* Individual store prices may vary.
Other Editions of This Title:
Digital Audiobook (2/1/2004)
Description
For forty years, Dean Smith coached the University of North Carolina basketball team with unsurpassed success. Now, in The Carolina Way, he explains his coaching philosophy and shows readers how to apply it to the leadership and team-building challenges they face in their own lives. In his wry, sensible, wise way, Coach Smith takes us through every aspect of his program, illustrating his insights with vivid stories. Accompanying each of Coach Smith's major points is a "Player Perspective" from a former North Carolina basketball star and an in-depth "Business Perspective" from Gerald D. Bell, a world-renowned leadership consultant and a professor at UNC's Kenan-Flagler Business School. The keystones of Coach Smith's coaching philosophy are widely applicable and centrally relevant to building successful teams of any kind.
Praise For The Carolina Way: Leadership Lessons from a Life in Coaching…
"Coach taught me the game....He's like a second father to me." —
Michael Jordan
"Dean Smith epitomizes what a coach can be-teacher, counselor, mentor, example, friend." —Bill Bradley
"He's a better coach of basketball than anyone else." —John Wooden
"To say that much of what I learned as a player from Dean Smith is directly applicable to the business community would be an understatement. Everything I learned during my stay at North Carolina has helped me be a better manager. To this day I rely on principles taught on and off the basketball court by Dean Smith to help me be more effective. Honesty, integrity, discipline, practice, and training certainly are the cornerstones to build from. If you care for your employees the way Coach Smith cared for us, success is a natural byproduct." —Mitch Kupchak, General Manager, Los Angeles Lakers
"There were a few truly great college coaches in twentieth-century America, and Dean Smith is one of those. In my mind, Coach Smith represents everything good about intercollegiate athletics. Call it what you want: the Carolina Way, the Smith Way, the Right Way—it's about the pursuit of excellence with integrity. Dean Smith is much more than a great coach. He is a great leader, a man of conviction, integrity, and toughness. If you're in a leadership position or aspire to one, The Carolina Way is a must read." —Lloyd H. Carr, Head Football Coach, the University of Michigan
"Dean Smith is one of the greatest coaches of all time and I was pleased to have the opportunity to read of the leadership principles that contributed to his success. The Carolina Way also includes terrific vignettes from his former players, further illustrating Dean's powerful impact on their lives and how he was able to encourage his players to perform at their personal best." —Congressman Tom Osborne, former Head Football Coach, the University of Nebraska
"The Carolina Way provides an invaluable primer on good leadership techniques and, if the 'proof is in the pudding,' then there is no doubt that Dean Smith's way works. My com pany and I had the benefit of hiring a number of Dean's players from Phil Ford to Pete Budko. All of them were winners—ambitious, energetic, loyal team players. He never sent us a bad one." —Hugh L. McColl Jr., Chairman of the Board and CEO (retired), The Bank of America
"I have had the great privilege of sharing a fair portion of my life with William Friday, the president of the University of North Carolina, during much of the Dean Smith era. As a result, I have learned what a blessing Dean Smith was to the integrity of basketball in a collegiate setting. I would highly recommend The Carolina Way to anyone in pursuit of excellence with integrity." —Reverend Theodore M. Hesburgh, C.S.C., President Emeritus, the University of Notre Dame
Penguin Books, 9780143034643, 352pp.
Publication Date: January 25, 2005
About the Author
Gerald D. Bell has master's degrees from the University of Colorado and Yale and a doctorate from Yale. He has taught at the University of North Carolina's Kenan-Flagler Business School for more than thirty years and has headed his Bell Leadership Institute since 1972. His leadership-training sessions have been attended by approximately 500,000 managers in more than 4,700 organizations from more than 85 countries
John Kilgo is an award-winning newspaper columnist, living in Davidson, North Carolina.
Roy Williams is the current head basketball coach at the University of North Carolina.