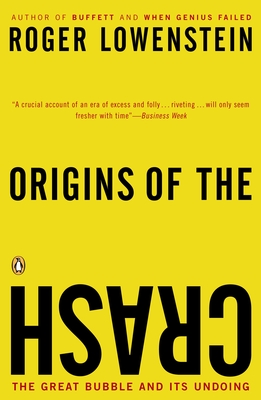 Origins of the Crash (Paperback)
The Great Bubble and Its Undoing
Penguin Books, 9780143034674, 288pp.
Publication Date: December 28, 2004
* Individual store prices may vary.
Description
With his singular gift for turning complex financial events into eminently readable stories, Roger Lowenstein lays bare the labyrinthine events of the manic and tumultuous 1990s. In an enthralling narrative, he ties together all of the characters of the dot-com bubble and offers a unique portrait of the culture of the era. Just as John Kenneth Galbraith's The Great Crash was a defining text of the Great Depression, Lowenstein's Origins of the Crash is destined to be the book that will frame our understanding of the 1990s.
About the Author
Roger Lowenstein, author of the bestselling Buffett: The Making of an American Capitalist and When Genius Failed: The Rise and Fall of Long-term Capital Management, reported for the Wall Street Journal for more than a decade and wrote the Journal's stock market column "Heard on the Street" and also its "Intrinsic Value" column. He now contributes articles and reviews to the Journal and the New York Times Magazine and is a columnist for SmartMoney Magazine. He lives in Westfield, New Jersey.
Praise For Origins of the Crash: The Great Bubble and Its Undoing…
"The perfect epitaph to an era of monumental avarice and folly on Wall Street. This is financial history at its best." —
Ron Chernow
"A crucial account of an era of excess and folly...riveting...will only seem fresher with time." —BusinessWeek