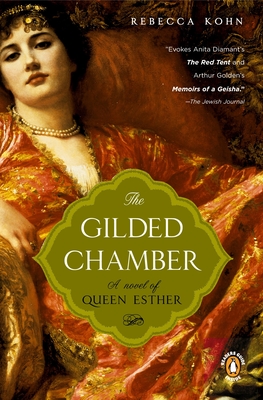 The Gilded Chamber
A Novel of Queen Esther
Paperback

* Individual store prices may vary.
Other Editions of This Title:
Hardcover (5/1/2004)
Paperback (7/1/2005)
Description
For centuries her name has been a byword for feminine beauty, guile, and wisdom. This sweeping, meticulously researched novel restores Esther to her full, complex humanity while reanimating the glittering Persian empire in which her story unfolded. Esther comes to that land as a terrified Jewish orphan betrothed to her cousin, a well-connected courtier. She finds a world racked by intrigue and unfathomable hatreds and realizes that the only way to survive is to win the heart of its king. Passionate, suspenseful, and historically authentic, The Gilded Chamber illuminates the dilemma of a woman torn between her heart and her sense of duty, resulting in pure narrative enchantment.
Praise For The Gilded Chamber: A Novel of Queen Esther…
"
The Gilded Chamber
is a world unto itself and one well worth entering." —
Margaret George
, author of
Mary, Called Magdalene
"A triumph of historical imagination and a must-read for lovers—and lovers of Jewish history." —Steven Pressfield, author of Gates of Fire
"Fans of Orson Scott Card's Sarah and Anita Diamant's The Red Tent have a new author to follow in Kohn." —Library Journal
"Evocatively and sensuously told." —Booklist
"Evokes Anita Diamant's The Red Tent in style and Arthur Golden's Memoirs of a Geisha in setting." —The Jewish Journal
Penguin Books, 9780143035336, 384pp.
Publication Date: July 26, 2005
About the Author
Rebecca Kohn lives in Hanover, New Hampshire, with her husband and daughter. The Gilded Chamber is is her first novel.
Were you surprised to learn there was such an important queen in such an ancient court and such a strong heroine in the Bible?
As queen, Esther is part of a decadent world of material things. What enables Esther to remember that riches are not the most important part of life?
At times it is easy to forget that Esther, the pampered queen, is also a slave forbidden to leave the palace confines. How would it feel to always be indoors and never allowed out?
Esther is torn between her desire to stop the decree against the Jewish people and her need to maintain her own safety and that of those that she cares about and already has responsibility for, such as Vadhut and Puah. Though she has limited options, Esther in her own way has power. Discuss some points in the novel when she exercises that power. What would you do in her position?
One of the most interesting issues in the book is the need for various characters to hide their Jewish origins. What is at stake for them in mut­ing their backgrounds? What strategies do they employ for maintaining their faith and their heritage? What factors drive some of the characters to finally reveal their religion?
This is quite a realistic love story, in which emotional relations are complicated by issues of gender and power. What does Esther gain from Mordechai and the king, and what does each deny her? Who do you think she is more suited for?
Why doesn't Mordechai marry Esther when she comes of age? Does he change over the course of the novel? Do you think that he does love and wish to marry Esther? Does the end of the story bring him redemption?
What does Ester need to gain in order to be fulfilled by the end of the novel?
The novel ends with Esther embarking on a new phase in her life. Can you imagine what her life might be like? What aspects of daily life do you think she values most?
or
Not Currently Available for Direct Purchase