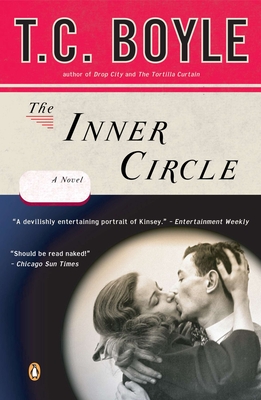 The Inner Circle (Paperback)
Penguin Books, 9780143035862, 432pp.
Publication Date: August 30, 2005
* Individual store prices may vary.
Description
Fresh on the heels of his
New York Times
bestselling and National Book Award-nominated novel,
Drop City
, T.C. Boyle has spun an even more dazzling tale that will delight both his longtime devotees and a legion of new fans. Boyle's tenth novel,
The Inner Circle
has it all: fabulous characters, a rollicking plot, and more sex than pioneering researcher Dr. Alfred Kinsey ever dreamed of documenting . . . well, almost.
A love story, The Inner Circle is narrated by John Milk, a virginal young man who in 1940 accepts a job as an assistant to Dr. Alfred Kinsey, an extraordinarily charming professor of zoology at Indiana University who has just discovered hislife's true calling: sex. As a member of Kinsey's "inner circle" of researchers, Milk (and his beautiful new wife) is called on to participate in sexual experiments that become increasingly uninhibited—and problematic for his marriage. For in his later years Kinsey (who behind closed doors is a sexual enthusiast of the first order) ever more recklessly pushed the boundaries both personally and professionally.
While Boyle doesn't resist making the most of this delicious material, The Inner Circle is at heart a very moving and very loving look at sex, marriage, and jealousy that will have readers everywhere reassessing their own relationships—because, in the end, "love is all there is."
About the Author
T. C. Boyle is the author of eleven novels, including
World's End
(winner of the PEN/FaulknerAward),
Drop City
(a
New York Times
bestseller and finalist for the National Book Award), and
The Inner Circle
. His most recent story collections are
Tooth and Claw
and
The Human Fly and Other Stories
.
Praise For The Inner Circle…
"Kinsey is in some ways a perfect subject for this sly and intrepid novelist…while Boyle is fascinated by the zealous energy of perfectionists like Kinsey, he is at bottom a defender of romance against the tyranny of reason." —
The New York Times Book Review
"The Inner Circle may draw readers because of its sexy subject matter, but they will stay for the emotional punch of Boyle's meditations on love, marriage, and jealousy." —The San Francisco Chronicle
"Terrific…Kinsey looms as one of the most wonderfully repellent figures in recent literature, but Circle's hero is smart, commonsensical Iris, who understands that Kinsey's mechanistic views of sex fails to account for love, jealousy, and human nature." —Entertainment Weekly
"The Inner Circle is a harrowing depiction of how questionable are some of the consequences of sexual liberation…that the novel is a page-turner, with lots of sex in it, only serves Boyle's purpose all the better." —The Washington Post
"Compelling and subtly humorous…a biting satire of emotional manipulation, sexual indiscretion, and scientific hubris." —The Boston Globe
"The Inner Circle never lets you tear your eyes from the page." —The Washington Post Book World