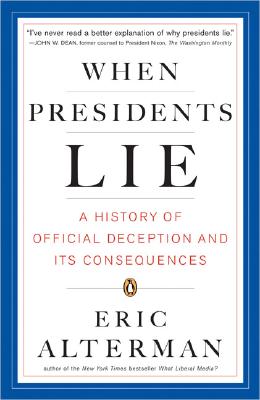 When Presidents Lie (Paperback)
A History of Official Deception and Its Consequences
Penguin Books, 9780143036043, 464pp.
Publication Date: October 25, 2005
* Individual store prices may vary.
Description
At a time when most Americans assume that their presidents lie to them, no book could be more essential than bestselling author Eric Alterman's devastating analysis of the costs of executive duplicity. One of the best-known left-of-center journalist-historians in America, Alterman argues that those costs are not merely moral but practical. As examples, he uses four key lies told by presidents in the postwar era. From FDR at Yalta to LBJ in Vietnam, and from JFK in Cuba to Ronald Reagan in Central America, Alterman shows how attempts to mislead the American people ended up haunting their authors and dooming the very policies they were meant to advance. Closing with an examination of the Bush deceptions in Iraq, When Presidents Lie is history at its most compelling.
or
Not Currently Available for Direct Purchase