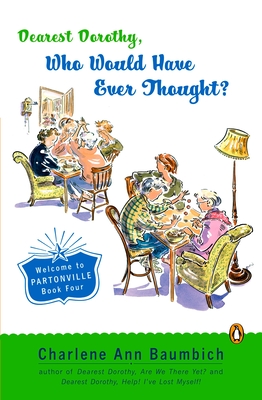 Dearest Dorothy, Who Would Have Ever Thought?! (Paperback)
Penguin Books, 9780143036197, 340pp.
Publication Date: August 1, 2005
Description
Charlene Ann Baumbich has won a loyal following of readers with the first three books in the Dearest Dorothy series, featuring the amusing and touching adventures of the townspeople of Partonville. Now Charlene Baumbich uses her wonderful gift of storytelling to celebrate the simple pleasures of life in this heartwarming and hilarious story. The fourth book in the series finds the residents of Partonville preparing for a festive Thanksgiving dinner at the local church. Amid assigning duties and preparing recipes, everyone tries to ignore bossy acting mayor Gladys McKern. Meanwhile, Jessica Joy struggles with an unexpected turn of events, Katie Durbin considers another real estate project, and Dearest Dorothy doles out advice and love in equal amounts to everyone.
About the Author
Charlene Ann Baumbich is the author of the previous three books in the Partonville series. A popular speaker, journalist, and author, for several years she has lectured to women s groups and retreats. Baumbich is also an award-winning journalist whose work has appeared in the Chicago Tribune, Today s Christian Woman, and numerous other publications. She is the author of six nonfiction books of humor and inspiration."
Advertisement