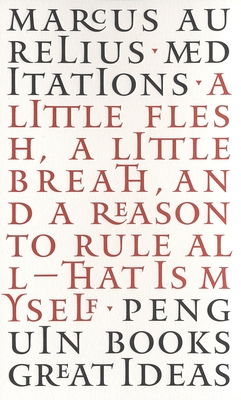 Meditations (Penguin Great Ideas) (Paperback)
Penguin Books, 9780143036272, 176pp.
Publication Date: September 6, 2005
Other Editions of This Title:
Paperback (1/20/2016)
Paperback (6/1/2011)
Paperback (2/9/2018)
Paperback (8/21/2016)
Paperback (10/1/2017)
Paperback (12/19/2011)
Paperback (12/18/2014)
Paperback (1/9/2017)
Paperback (4/28/2017)
Paperback (6/22/2012)
Paperback (7/8/2018)
Paperback (5/20/2009)
Paperback (1/18/2011)
Paperback (12/11/2016)
Paperback (11/9/2017)
Paperback (12/25/2017)
Paperback (8/6/2016)
* Individual store prices may vary.
Description
A Penguin Great Ideas edition of Stoic philosophy in wise and practical aphorisms that have inspired Bill Clinton, Ryan Holiday, Anna Kendrick and many more.

Few ancient works have been as influential as the Meditations of Marcus Aurelius, philosopher and emperor of Rome (A.D. 161–180). A series of spiritual exercises filled with wisdom, practical guidance, and profound understanding of human behavior, it remains one of the greatest works of spiritual and ethical reflection ever written. Marcus's insights and advice—on everything from living in the world to coping with adversity and interacting with others—have made the Meditations required reading for statesmen and philosophers alike, while generations of ordinary readers have responded to the straightforward intimacy of his style. For anyone who struggles to reconcile the demands of leadership with a concern for personal integrity and spiritual well-being, the Meditations remains as relevant now as it was two thousand years ago.

Throughout history, some books have changed the world. They have transformed the way we see ourselves—and each other. They have inspired debate, dissent, war and revolution. They have enlightened, outraged, provoked and comforted. They have enriched lives—and destroyed them.

Now, Penguin brings you the works of the great thinkers, pioneers, radicals and visionaries whose ideas shook civilization, and helped make us who we are. Penguin's Great Ideas series features twelve groundbreaking works by some of history's most prodigious thinkers, and each volume is beautifully packaged with a unique type-drive design that highlights the bookmaker's art. Offering great literature in great packages at great prices, this series is ideal for those readers who want to explore and savor the Great Ideas that have shaped the world.
About the Author
Marcus Aelius Aurelius Antoninus (121-180 CE) was adopted by the emperor Antoninus Pius and succeeded him in 161, (as joint emperor with adoptive brother Lucius Verus). The last of the so-called Five Good Emperors, he ruled alone from 169.  Presiding over a changing Rome, he spent much of his reign in putting down variou rebellions. Today, he is best-know for his Meditations, a series of reflections, strongly influenced by Epictetus, which cemented his place as one of the greatest Stoic Philosophers. He died in 180 and was succeed by his natural son, thus ending the period of the adoptive emperors.

Diskin Clay is Professor Emeritus of Classical Studies at Duke University and has published widely in the area of Ancient Greek Philosophy.

Martin Hammond was Head Master of Tonbridge School and has translated many works of classic literature, including Homer's Iliad for Penguin Classics.
Praise For Meditations (Penguin Great Ideas)…
"Here, for our age, is [Marcus's] great work presented in its entirety, strongly introduced and freshly, elegantly translated." —Robert Fagles