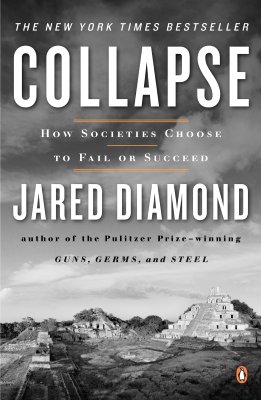 Collapse
How Societies Choose to Fail or Succeed
Paperback

* Individual store prices may vary.
Other Editions of This Title:
Digital Audiobook (11/3/2014)
Digital Audiobook (11/30/2004)
Paperback (1/4/2011)
Paperback, Chinese (10/29/2019)
Paperback (7/1/2007)
Paperback (6/1/2011)
Compact Disc (12/29/2004)
Hardcover (1/1/2005)
Description
In his runaway bestseller Guns, Germs, and Steel, Jared Diamond brilliantly examined the circumstances that allowed Western civilizations to dominate much of the world. Now he probes the other side of the equation: What caused some of the great civilizations of the past to fall into ruin, and what can we learn from their fates? Using a vast historical and geographical perspective ranging from Easter Island and the Maya to Viking Greenland and modern Montana, Diamond traces a fundamental pattern of environmental catastrophe--one whose warning signs can be seen in our modern world and that we ignore at our peril. Blending the most recent scientific advances into a narrative that is impossible to put down, Collapse exposes the deepest mysteries of the past even as it offers hope for the future.

"Diamond's most influential gift may be his ability to write about geopolitical and environmental systems in ways that don't just educate and provoke, but entertain." --The Seattle Times

"Extremely persuasive . . . replete with fascinating stories, a treasure trove of historical anecdotes [and] haunting statistics." --The Boston Globe

"Extraordinary in erudition and originality, compelling in [its] ability to relate the digitized pandemonium of the present to the hushed agrarian sunrises of the far past." --The New York Times Book Review
Penguin Books, 9780143036555, 592pp.
Publication Date: December 27, 2005
About the Author
Jared Diamond is a professor of geography at the University of California, Los Angeles. He began his scientific career in physiology and expanded into evolutionary biology and biogeography. He has been elected to the National Academy of Sciences, the American Academy of Arts and Sciences, and the American Philosophical Society. Among Dr. Diamond's many awards are the National Medal of Science, the Tyler Prize for Environmental Achievement, Japan's Cosmos Prize, a MacArthur Foundation Fellowship, and the Lewis Thomas Prize honoring the Scientist as Poet, presented by Rockefeller University. He has published more than two hundred articles and his book Guns, Germs, and Steel, was awarded the Pulitzer Prize.
or
Not Currently Available for Direct Purchase