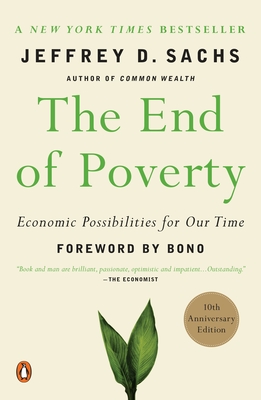 The End of Poverty (Paperback)
Economic Possibilities for Our Time
Penguin Books, 9780143036586, 448pp.
Publication Date: February 28, 2006
Other Editions of This Title:
Digital Audiobook (3/12/2008)
Hardcover (3/15/2005)
Compact Disc (3/13/2008)
Compact Disc (2/1/2012)
Compact Disc (3/1/2008)
Audio Cassette (3/1/2008)
Pre-Recorded Audio Player (5/1/2009)
MP3 CD (3/1/2008)
* Individual store prices may vary.
Description
The landmark exploration of economic prosperity and how the world can escape from extreme poverty for the world's poorest citizens, from one  of the world's most renowned economists

Hailed by Time as one of the world's hundred most influential people, Jeffrey D. Sachs is renowned for his work around the globe advising economies in crisis. Now a classic of its genre, The End of Poverty distills more than thirty years of experience to offer a uniquely informed vision of the steps that can transform impoverished countries into prosperous ones. Marrying vivid storytelling with rigorous analysis, Sachs lays out a clear conceptual map of the world economy. Explaining his own work in Bolivia, Russia, India, China, and Africa, he offers an integrated set of solutions to the interwoven economic, political, environmental, and social problems that challenge the world's poorest countries.
 
Ten years after its initial publication, The End of Poverty remains an indispensible and influential work. In this 10th anniversary edition, Sachs presents an extensive new foreword assessing the progress of the past decade, the work that remains to be done, and how each of us can help. He also looks ahead across the next fifteen years to 2030, the United Nations' target date for ending extreme poverty, offering new insights and recommendations.
About the Author
Jeffrey D. Sachs is the Director of the Earth Institute at Columbia University, as well as Quetelet Professor of Sustainable Development and Health Policy and Management. He is Special Advisor to United Nations Secretary-General Ban Ki-moon on the Millennium Development Goals. He has twice been named among Time Magazine's 100 most influential world leaders. He was called by the New York Times, "probably the most important economist in the world," and by Time Magazine "the world's best known economist." A recent survey by The Economist ranked Sachs as among the world's three most influential living economists of the past decade. His other books include Common Wealth, The Price of Civilization, To Move the World, and The Age of Sustainable Development.
Praise For The End of Poverty: Economic Possibilities for Our Time…
"Jeffrey Sachs is that rare phenomenon: an academic economist famous for his theories about why some countries are poor and others rich, and also famous for his successful practical work in helping poor countries become richer. In this long-awaited, fascinating, clearly and movingly written book, he distills his experience to propose answers to the hard choices now facing the world." 
—Jared Diamond, Pulitzer Prize-winning author of Guns, Germs, and Steel
"Book and man are brilliant, passionate, optimistic and impatient... Outstanding." —
The Economist
"If there is any one work to put extreme poverty back onto the global agenda, this is it." —Publishers Weekly, starred review
"Paul Wolfowitz should read Jeffrey Sachs's compelling new book." —Fareed Zakaria, Newsweek
"Professor Sachs has provided a compelling blueprint for eliminating extreme poverty from the world by 2025. Sachs's analysis and proposals are suffused with all the practical experience of his twenty years in the field—working in dozens of countries across the globe to foster economic development and well-being." —George Soros, financier and philanthropist
"Sachs proposes a many-pronged, needs-based attack...that is eminently practical and minimally pipe-dreamy...A solid, reasonable argument in which the dismal science offers a brightening prospect for the world's poor." —Kirkus 
"This is an excellent, understandable book on a critical topic and should be required reading for students and participants in public policy as well as those who doubt the problem of world poverty can be solved." —Mary Whaley, Booklist