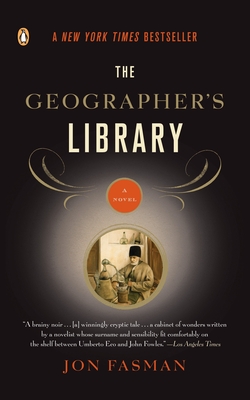 The Geographer's Library
Paperback

* Individual store prices may vary.
Other Editions of This Title:
Digital Audiobook (10/9/2004)
Description
Jon Fasman's dizzyingly plotted intellectual thriller suggests a marriage between Dan Brown and Donna Tartt. When reporter Paul Tomm is assigned to investigate the mysterious death of a reclusive academic, he finds himself pursuing leads that date back to the twelfth century and the theft of alchemical instruments from the geographer of the Sicilian court. Now someone is trying to retrieve them. Interspersed with the present action are the stories of the men and women who came to possess those charmed—and sometimes cursed—artifacts, which have powers that go well beyond the transmutation of lead into gold. Deftly combining history, magic, suspense, and romance—and as handsomely illustrated as an ancient incunabulum—The Geographer's Library is irresistible.
Praise For The Geographer's Library…
"Fasman's fast-paced tale is almost all plot... These characters are better drawn than those in
The Da Vinci Code
." —
Newsweek
"A brainy noir . . . [a] winningly cryptic tale . . . a cabinet of wonders written by a novelist whose surname and sensibility fit comfortably on the shelf between Umberto Eco and John Fowles." —Los Angeles Times
"One of the year's most literate and absorbing entertainments." —Kirkus Reviews
Penguin Books, 9780143036623, 384pp.
Publication Date: February 28, 2006
About the Author
Jon Fasman was born in Chicago in 1975 and grew up in Washington, D.C. He was educated at Brown and Oxford universities and has worked as a journalist in Washington, D.C., New York, Oxford, and Moscow. His writing has appeared in The Times Literary Supplement, Slate, Legal Affairs, the Moscow Times, and The Washington Post. He is now a writer and an editor for The Economist's Web site.
1. Many people believe alchemy is merely about trying to turn lead into gold. But there is a rich tradition of alchemy running through many disciplines—from religion to chemistry, from literature to psychology. What are some examples?
2. Paul gets very close to one of his sources almost immediately. Do you think this is merely due to his lack of experience or might there be some other issues involved? What do you think would have happened to Paul if he had kept a professional distance between them?
3. What sort of picture does Fasman paint of life in the Soviet Union?
4. Do you think Paul is afraid of his own ambition? How might the events of the novel limit or narrow his career?
5. Hannah's asking Paul to write down everything that happened sounds vaguely similar to the request made of an Estonian poet in the novel. Despite Tonu's promises, do you think Paul is still in grave danger?
6. Discuss the narrative device of having chapters end with descriptions of the objects from the library.
7. Looking back, Paul remembers several instances when he should have paid more attention to Hannah's strange behavior (for example, when they first meet Tonu together). Reflect on the various occasions in the novel when greater vigilance about odd behavior might have had a decisive effect.
8. There is very little interaction between the novel's characters and their families. Why do you think this is the case?
or
Not Currently Available for Direct Purchase