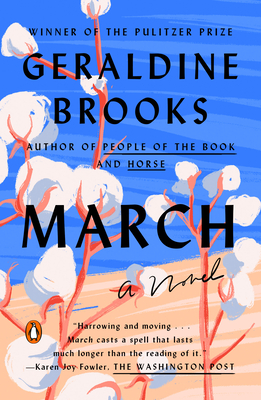 March
A Novel
Paperback

* Individual store prices may vary.
Other Editions of This Title:
Digital Audiobook (10/9/2004)
MP3 CD (3/1/2005)
Compact Disc (3/1/2005)
Description
Winner of the Pulitzer Prize--a powerful love story set against the backdrop of the Civil War, from the author of The Secret Chord.

From Louisa May Alcott's beloved classic Little Women, Geraldine Brooks has animated the character of the absent father, March, and crafted a story "filled with the ache of love and marriage and with the power of war upon the mind and heart of one unforgettable man" (Sue Monk Kidd). With "pitch-perfect writing" (USA Today), Brooks follows March as he leaves behind his family to aid the Union cause in the Civil War. His experiences will utterly change his marriage and challenge his most ardently held beliefs. A lushly written, wholly original tale steeped in the details of another time, March secures Geraldine Brooks's place as a renowned author of historical fiction.
Praise For March: A Novel…
"Brilliant...Geraldine Brooks' new novel, March, is a very great book....Brooks has magnificently wielded the novelist's license."—Beth Kephart, Chicago Tribune

"A beautifully wrought story....Gripping....A taut plot, vivid characters and provocative issues."—Heller McAlpin, Los Angeles Times Book Review

"Honorable, elegant and true."—John Freeman, The Wall Street Journal

"Harrowing and moving...In her previous book, Year of Wonders, Geraldine Brooks proved herself to be a wonderful novelist. March has all the same virtues...casting a spell that lasts much longer than the reading of it."—Karen Joy Fowler, The Washington Post World

"Wholly original...deeply engaging."—Ron Charles, The Christian Science Monitor

"Inspired... A disturbing, supple, and deeply satisfying story, put together with craft and care and imagery worthy of a poet."—The Cleveland Plain Dealer

"Louisa May Alcott would be well pleased."—The Economist
Penguin Books, 9780143036661, 320pp.
Publication Date: January 31, 2006
About the Author
Geraldine Brooks is the author of five novels: the Pulitzer Prize-winning March; the international bestsellers Caleb's Crossing, People of the Book, and Year of Wonders; and, most recently, The Secret Chord. She has also written the acclaimed nonfiction works Nine Parts of Desire and Foreign Correspondence. Born and raised in Australia, she lives on Martha's Vinyard with her husband, the author Tony Horwitz, and their two sons.
1. Throughout the novel, March and Marmee, although devoted to one another, seem to misunderstand each other quite a bit and often do not tell each other the complete truth. Discuss examples of where this happens and how things may have turned out differently, for better or worse, had they been completely honest. Are there times when it is best not to tell our loved ones the truth?
2. The causes of the American Civil War were multiple and overlapping. What was your opinion of the war when you first came to the novel, and has it changed at all since reading March?
3. March's relationships with both Marmee and Grace are pivotal in his life. Discuss the differences between these two relationships and how they help to shape March, his worldview, and his future. What other people and events were pivotal in shaping March's beliefs?
4. Do you think it was the right decision for March to have supported, financially or morally, the northern abolitionist John Brown? Brown's tactics were controversial, but did the ends justify the means?
5. "If war can ever be said to be just, then this war is so; it is action for a moral cause, with the most rigorous of intellectual underpinnings. And yet everywhere I turn, I see injustice done in the waging of it," says March (p. 65). Do you think that March still believes the war is just by the end of the novel? Why or why not?
6. What is your opinion of March's enlisting? Should he have stayed home with his family? How do we decide when to put our principles ahead of our personal obligations?
7. When Marmee is speaking of her husband's enlisting in the army, she makes a very eloquent statement: "A sacrifice such as his is called noble by the world. But the world will not help me put back together what war has broken apart" (p. 210). Do her words have resonance in today's world? How are the people who fight our wars today perceived? Do you think we pay enough attention to the families of those in the military? Have our opinions been influenced at all by the inclusion of women in the military?
8. The war raged on for several years after March's return home. How do you imagine he spent those remaining years of the war? How do you think his relationship with Marmee changed? How might it have stayed the same?