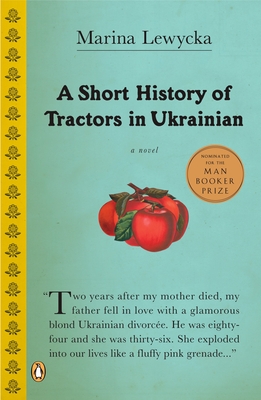 A Short History of Tractors in Ukrainian
Paperback

* Individual store prices may vary.
Description
Nominated for the Man Booker Prize

"A charming comedy of eros . . . A ride that, despite the bumps and curves in the road, never feels anything less than jaunty." —Los Angeles Times

"Charming, poignantly funny." —The Washington Post Book World

'Two years after my mother died, my father fell in love with a glamorous blonde Ukrainian divorcee. He was eighty-four and she was thirty-six. She exploded into our lives like a fluffy pink grenade, churning up the murky water, bringing to the surface a sludge of sloughed-off memories, giving the family ghosts a kick up the backside.'

Sisters Vera and Nadezhda must aside a lifetime of feuding to save their émigré engineer father from voluptuous gold-digger Valentina. With her proclivity for green satin underwear and boil-in-the-bag cuisine, she will stop at nothing in her pursuit of Western wealth.

But the sisters' campaign to oust Valentina unearths family secrets, uncovers fifty years of Europe's darkest history and sends them back to roots they'd much rather forget . . .
Praise For A Short History of Tractors in Ukrainian…
"A charming comedy of eros . . . A ride that, despite the bumps and curves in the road, never feels anything less than jaunty." —Los Angeles Times

"Lewycka is a writer with a fundamentally optimistic vision of the future and a healthy curiosity about the past." —Chicago Tribune

"Charming, poignantly funny." —The Washington Post Book World

"It's rare to find a first novel that gets so much right . . . Lewycka is a seriously talented comic writer"-- Time Out (London)

"Intelligent, lively, well written and compassionate" ― Financial Times

"Ploughs a rich comic furrow"― Daily Telegraph (London)

"A clever, touching story" ― Economist

"Delightful, funny, touching" -- Spectator (London)
Penguin Books, 9780143036746, 304pp.
Publication Date: March 28, 2006
About the Author
Marina Lewycka was born of Ukrainian parents in a refugee camp at the end of World War II and grew up in England. In the course of researching her family roots for this novel, she uncovered no fewer than three long-lost relatives.
The novel begins with Nikolai's dramatic announcement that he plans to remarry to a woman fifty years younger than he. Nadia at first responds by trying not to judge, and instead diplomatically asks questions about both parties' motivations. What would you do if you had a parent or family member who seemed to be entering into such a flawed allegiance? How far would you go to stop such a wedding? Do you think that Nadia responds appropriately?
What do you think Valentina's real motives are? Does she really want the best possible life for her son, is she simply after money, or does she seek love and contentment for herself? Go back to some scenes in the novel where she explains what she wants and defends her own actions against the accusations of Nadia and her sister. Whom do you believe? Do you feel sympathy for Valentina?
Nadia's father becomes embroiled with Valentina for a variety of reasons, including his loneliness, romanticism, and generosity. Make a list of his motivations. Which do you think are most important to him? Is her considerable—and oft-advertised—sex appeal her primary attraction, or do you think it might be something else? What do you learn about his attitudes towards life and people from his book on tractors?
Consider all of the ways in which sisters Vera and Nadia are different. How do they define themselves and each other? What influence does their childhood, and their difference in age, have on their personalities and current relationship with each other? What role does the family's wartime experience play? What does Nadia mean when she says that she and her sister quarrel over "the inheritance of character, of nature"?
How does Nadia's attitude towards Vera change over the course of the novel? What enables this evolution? Try to describe the state of their sisterhood at the end of the book and make some guesses about how it might continue to grow or evolve in the future. What kinds of grievances do Vera and Nadia decide to let go of, and which begin to seem less important? Have you ever had a conflict with a family member that you could not resolve without compromise, one profoundly rooted in the past?
Stanislaw is one of the more complex characters, in part because he is not in control of his own destiny but is instead subject to the whims of his mother and other adults. Though he is no innocent, he is in some ways a victim. Return to some sections of the book that deal with Stanislaw. Try to imagine the story from his point of view. Who would you trust in his situation? What would you hope for?
Do you think it's fair of Nadia and Vera to try to have Valentina deported? What would her life be like back in Ukraine? What about Stanislaw's future? Consider what both she and Nikolai say about life back in their homeland, both in the past and present. Do you think Valentina's aspirations for a life in England are similar to those of other immigrants? How does Nadia struggle with the dissonance between being an immigrant herself and trying to deport an aspiring one?
How does Nadia's vocation as a sociologist influence her approach to her family and to Valentina? Does it help her see the situation more clearly than others? Consider some of the times in which she seems to analyze circumstances more as a professional and others in which she responds less rationally. What does this suggest about the benefits and limitations of our attempts at logical explanation, particularly as regards our families?
One of the main points of contrast between Nadia and Vera's mother and Valentina is their differing approaches to cooking and housekeeping. Go back to scenes where Nadia reflects on her mother's garden in particular, and contrast that with the way Valentina keeps house. Which approach more closely matches your own? Do you think the differences might be attributed to generational changes? Or is there some deeper meaning about character and love that is revealed in their attitudes towards these tasks?
Valentina, crass, tacky, and pushy, is the center around which all characters revolve in this novel. How do different characters respond to her and why? What are some of the explanations that minor characters give for her behavior? Locate points in the book where people other than Nadia, Vera, and their father describe, respond to, or explain Valentina. Whom do you most agree with? How would you describe her?
Nadia says midway through the book that she "had thought this story was going to be a knockabout farce, but now I see it is developing into a knockabout tragedy." Think about some of the more serious scenes and stories in the book, those that are tragic or frightening in nature. How much danger is Nikolai really in? How scarred is Vera by events that happened before Nadia was born? How does Lewycka retain the comic elements in spite of such subject matter?
How would you define Nikolai's book, A Short History of Tractors in Ukrainian, which is a book within the novel? Is it a history? A technical manual? A memoir? What does Nadia learn from reading this book, aside from facts about tractors? Consider also how it functions in the novel to provide crucial information for the reader about history and ideology. What does Nikolai accomplish through its writing?