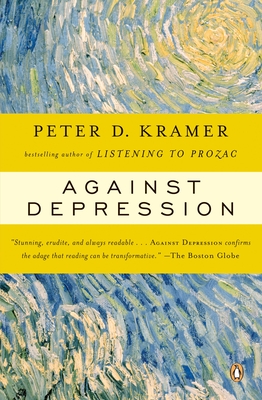 Against Depression (Paperback)
Penguin Books, 9780143036968, 368pp.
Publication Date: July 25, 2006
Other Editions of This Title:
Digital Audiobook (2/9/2005)
Hardcover (5/5/2005)
Compact Disc, Abridged, Abridged (5/5/2005)
* Individual store prices may vary.
Description
In his landmark bestseller Listening to Prozac, Peter Kramer revolutionized the way we think about antidepressants and the culture in which they are so widely used. Now Kramer offers a frank and unflinching look at the condition those medications treat: depression. Definitively refuting our notions of "heroic melancholy," he walks readers through groundbreaking new research—studies that confirm depression's status as a devastating disease and suggest pathways toward resilience. Thought-provoking and enlightening, Against Depression provides a bold revision of our understanding of mood disorder and promises hope to the millions who suffer from it.
About the Author
Peter D. Kramer, M.D., recently named host of the national, weekly public radio series,
The Infinite Mind
, is "possibly the best-known psychiatrist in America," as
The New York Times
put it. Peter Kramer received his M.D. from Harvard and is the best-selling author of
Listening to Prozac
,
Should You Leave?
,
Spectacular Happiness
, and
Moments of Engagement
. His latest book,
Against Depression
, will be published in May 2005.
In 2004, two programs of The Infinite Mind hosted by Kramer won top media awards: a Gracie Allen Award from the American Women in Radio and Television for an examination of "Domestic Violence" and a National Mental Health Association Media Award for "Between Two Worlds: Mental Health for Immigrants. Kramer has written for The New York Times Magazine and The New York Times Book Review, The Washington Post Book Review, The Washington Post, the (London) Times Literary Supplement and U.S. News & World Report, among other publications. He lives in Providence, Rhode Island, where he is Clinical Professor of Psychiatry and Human Behavior at Brown University, and has a private practice.
Visit Dr. Peter D. Kramer on the web: http://www.peterdkramer.com 
The Infinite Mind: http://www.theinfinitemind.com/
Praise For Against Depression…
"An eloquent, absorbing book." —
The New York Times Book Review
"Deeply felt... [Kramer's] book is a polemic against a society that accepts depression as a fact of life." —O, The Oprah Magazine
"Kramer makes an eloquent case for considering depression a disease... Captivating, convincing and thorough." —San Francisco Chronicle
In Against Depression, Peter Kramer opens our eyes once again to a fresh, important and humane understanding of the human condition. His bold rethinking of the condition we call 'depression' gives us a clear-eyed scenario for freedom from the grip of this soul-searing disorder." —Daniel Goleman, author of Emotional Intelligence
"There is nothing romantic in the suffering of depression. Kramer shows us the horrific reality of the illness, dispelling myths that pervade popular culture. This book should usher in an era when the disordered chemistry of the brain is viewed with the same concern and care that mark the treatment of any malady." —Jerome Groopman, Professor of Medicine, Harvard Medical School
"Here one of our most thoughtful psychiatrists attends a wide-spread psychological malady—the bouts of melancholy that afflict so many individuals, laying them low in mind and spirit. This book offers much critical wisdom, even as it is written with a grace and sensitivity that will endear its words to the reader." —Robert Coles, Professor of Psychiatry and Medical Humanities, Harvard Medical School
"Our treasured sense of self is often challenged by neuroscience—how do you wedge 'Self' in among neurons and synapses and neurotransmitters? No one has written about these issues in a more sensitive, thought-provoking and accessible way, and has touched more people in the process, than Peter Kramer." —Robert Sapolsky, Professor of Biological Sciences, Stanford University
or
Not Currently Available for Direct Purchase