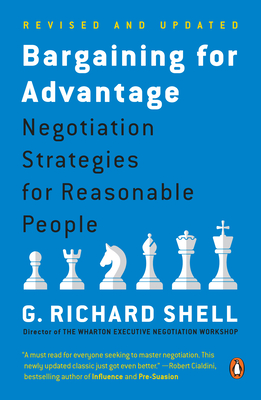 Bargaining for Advantage
Negotiation Strategies for Reasonable People
Paperback

* Individual store prices may vary.
Other Editions of This Title:
Digital Audiobook (6/30/2014)
Description
BRAND NEW FOR 2019: A fully revised and updated edition of the quintessential guide to learning to negotiate effectively in every part of your life
 
"A must read for everyone seeking to master negotiation. This newly updated classic just got even better."—Robert Cialdini, bestselling author of Influence and Pre-Suasion

As director of the world-renowned Wharton Executive Negotiation Workshop, Professor G. Richard Shell has taught thousands of business leaders, lawyers, administrators, and other professionals how to survive and thrive in the sometimes rough-and-tumble world of negotiation. In the third edition of this internationally acclaimed book, he brings to life his systematic, step-by-step approach, built around negotiating effectively as who you are, not who you think you need to be. Shell combines lively stories about world-class negotiators from J. P. Morgan to Mahatma Gandhi with proven bargaining advice based on the latest research into negotiation and neuroscience. This updated edition includes:

This updated edition includes:
· An easy-to-take "Negotiation I.Q." test that reveals your unique strengths as a negotiator
· A brand new chapter on reliable moves to use when you are short on bargaining power or stuck at an impasse
· Insights on how to succeed when you negotiate online
· Research on how gender and cultural differences can derail negotiations, and advice for putting relationships back on track


Praise For Bargaining for Advantage: Negotiation Strategies for Reasonable People…
"A must read for everyone seeking to master negotiation. This newly updated classic just got even better."—Robert Cialdini, bestselling author of Influence and Pre-Suasion

"Bargaining for Advantage [is] outstanding."—Timothy Ferriss, author of The 4-Hour Workweek

"Readers interested in developing or refining their negotiation skills should run, not walk, to the nearest bookstore for a copy of Bargaining for Advantage. . . . It belongs on any list of required reading for practitioners or educators in the field of negotiation and is also highly recommended to the general public."—Alternative Dispute Resolution Report

"Engaging . . . Replete with intriguging real world anecdotes. Shell offers sage and practice advice to almost any negotiator."—Howard Raiffe, author of The Art and Science of Negotiation

"A new book that could really shift your sensibilities about the art of negotiation—taking out the mystery and replacing it with a success 'toolbox.' . . . A volume that gives direct and practical fundamentals to becoming an effective bargainer in any situation."—Business Digest

"Wise, persuasive, and entirely readable, Bargaining for Advantage provides practical step-by-step advice for negotiators who want to bargain effectively without compromising themselves or their values."—Michael Wheeler, Harvard Business School, coeditor of The Negotiation Journal

"Richard Shell is known to be a star teacher of negotiation. His expertise comes through in this book . . . a wonderful integration of practical advice that will be useful to all readers."
—Max H. Bazerman, Jesse Isidor Straus Professor of Business Administration, Harvard Business School

"Bargaining for Advantage turns negotiation into an easy-to-understand process that any founder can effectively apply to a startup's negotiation."—George Lovegrove, Medium

"No matter what you do for a living, good negotiation skills help you reach your goals quickly. Bargaining for Advantage will help you identify your negotiating style, strengths and weaknesses, identify your bargaining goals, and teach you useful tactics for getting the most out of your negotiations."—Josh Kaufman, The Personal MBA list of "99 Best Business Books"

"Shell's book is excellent . . . a fine crop of new ideas, all presented in an enjoyable style. It provides [negotiators] with a system for categorizing and digesting the bewildering mass of information that comes at her in the course of a complex negotiation."—John Richardson, Harvard Negotiation Law Review



Penguin Books, 9780143036975, 304pp.
Publication Date: May 2, 2006
About the Author
G. Richard Shell teaches negotiation at the Wharton School of Business at the University of Pennsylvania, where he is professor of legal studies, business ethics, and management and academic director of the Wharton Executive Negotiation Workshop.