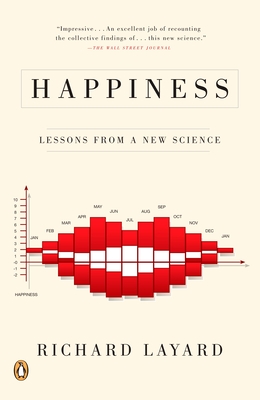 Happiness
Lessons from a New Science
Paperback

* Individual store prices may vary.
Other Editions of This Title:
Hardcover (1/27/2005)
Description
There is a paradox at the heart of our lives. We all want more money, but as societies become richer, they do not become happier. This is not speculation: It's the story told by countless pieces of scientific research. We now have sophisticated ways of measuring how happy people are, and all the evidence shows that on average people have grown no happier in the last fifty years, even as average incomes have more than doubled.
The central question the great economist Richard Layard asks in Happiness is this: If we really wanted to be happier, what would we do differently? First we'd have to see clearly what conditions generate happiness and then bend all our efforts toward producing them. That is what this book is about-the causes of happiness and the means we have to effect it.
Until recently there was too little evidence to give a good answer to this essential question, but, Layard shows us, thanks to the integrated insights of psychology, sociology, applied economics, and other fields, we can now reach some firm conclusions, conclusions that will surprise you. Happiness is an illuminating road map, grounded in hard research, to a better, happier life for us all.
Penguin Books, 9780143037019, 320pp.
Publication Date: June 27, 2006
About the Author
Richard Layard is one of Britain's best-known economists and a leading world expert on unemployment and inequality. He runs Europe's leading economics research center within the London School of Economics. He worked for the British government as an economic adviser from 1997 to 2001, and in 2000 he became a member of the House of Lords. He is the author of a number of academic books.