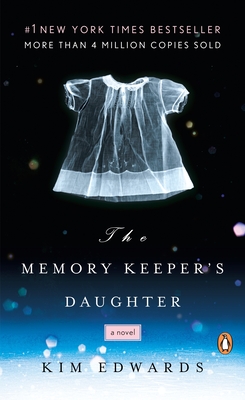 The Memory Keeper's Daughter
A Novel
Paperback

* Individual store prices may vary.
Other Editions of This Title:
Digital Audiobook (8/9/2017)
Digital Audiobook (10/17/2016)
Paperback, Large Print (12/20/2006)
Prebound (5/30/2006)
Compact Disc, Abridged (7/1/2005)
Description
A #1 New York Times bestseller by Kim Edwards, The Memory Keeper's Daughter is a brilliantly crafted novel of parallel lives, familial secrets, and the redemptive power of love

Kim Edwards's stunning novel begins on a winter night in 1964 in Lexington, Kentucky, when a blizzard forces Dr. David Henry to deliver his own twins. His son, born first, is perfectly healthy, but the doctor immediately recognizes that his daughter has Down syndrome. Rationalizing it as a need to protect Norah, his wife, he makes a split second decision that will alter all of their lives forever. He asks his nurse, Caroline, to take the baby away to an institution and never to reveal the secret. Instead, she disappears into another city to raise the child herself. So begins this beautifully told story that unfolds over a quarter of a century—in which these two families, ignorant of each other, are yet bound by the fateful decision made that winter night long ago.

A family drama, The Memory Keeper's Daughter explores every mother's silent fear: What would happen if you lost your child and she grew up without you? It is also an astonishing tale of love and how the mysterious ties that hold a family together help us survive the heartache that occurs when long-buried secrets are finally uncovered.
Praise For The Memory Keeper's Daughter: A Novel…
"Edwards is a born novelist....The Memory Keeper's Daughter is rich with psychological detail and the nuances of human connection. [An] extraordinary debut."
–Chicago Tribune

"Anyone would be struck by the extraordinary power and sympathy of The Memory Keeper's Daughter."
–The Washington Post
 
"Absolutely mesmerizing."
–Sue Monk Kidd
 
"Kim Edwards has created a tale of regret and redemption... you have to reread the passages just to be captivated all over again . . .  simply a beautiful book."
–Jodi Picoult
 
"Kim Edwards writes with great wisdom and compassion.... This is a wonderful, heartbreaking, heart-healing novel."
–Luanne Rice
 
"A heart-wrenching book, by turns light and dark, literary and suspenseful."
–Library Journal 
 
"A gripping novel, beautifully written."
–Ursula Hegi
 "Gripping from its start. Highly accomplished."
–The Guardian (UK)
 
"A remarkable achievement. [Kim Edwards has] clearly hit a nerve."
–The Independent (UK)
 
"Masterfully written…a compelling story that explores universal themes: the secrets we harbor, even from those we love; our ability to rationalize all manner of lies; and our fear that there will always be something unknowable about the people we love most."
–The Pittsburgh Post-Gazette
 
 "I devoured it."
–Sena Jeter Naslund
Penguin Books, 9780143037149, 448pp.
Publication Date: May 30, 2006
About the Author
Kim Edwards is the author of the #1 New York Times bestseller The Memory Keeper's Daughter, which was translated into thirty-eight languages.  She is also the author of the New York Times bestselling novel, The Lake of Dreams, and a collection of short stories, The Secrets of a Fire King.  Her honors include the Whiting Award, the British Book Award, and USA Today's Book of the Year, as well as the Nelson Algren Award, a National Magazine Award, and a grant from the National Endowment for the Arts.  A graduate of the Iowa Writers' Workshop, she has taught widely in the US and Asia, and currently lives in Lexington, Kentucky.
1. When David hands his baby girl over to Caroline and tells Norah that she has died, what was your immediate emotional reaction? At this early point, did you understand David's motivations? Did your understanding grow as the novel progressed?
2. David describes feeling like "an aberration" within his own family (p. 7) and describes himself as feeling like "an imposter" in his professional life as a doctor (p. 8). Discuss David's psyche, his history, and what led him to make that fateful decision on the night of his children's birth.
3. When David instructs Caroline to take Phoebe to the institution, Caroline could have flatly refused or she could have gone to the authorities. Why doesn't she? Was she right to do what she did and raise Phoebe as her own? Was Caroline morally obligated to tell Norah the truth right from the beginning? Or was her moral obligation simply to take care of Phoebe at whatever cost? Why does she come to Norah after David's death?
4. Though David wanted no part of her, Phoebe goes on to lead a full life, bringing much joy to Caroline and Al. Her story calls into question how we determine what kind of life is worth living. How would you define such a life? In contrast to Phoebe's, how would you describe the quality of Paul's life as he grew up?
5. Throughout the novel, the characters often describe themselves as feeling as if they are watching their own lives from the outside. For instance, David describes the moment when his wife is going into labor and says "he felt strangely as if he himself were suspended in the room . . . watching them both from above" (p. 10). What do you think Edwards is trying to convey here? Have you ever experienced similar feelings in your own life?
6. There is an obvious connection between David and Caroline, most aptly captured by a particular moment described through David's point of view: "Their eyes met, and it seemed to the doctor that he knew her—that they knew each other—in some profound and certain way" (p. 12). What is the significance of this moment for each of them? How would you describe the connection between them? Why do you think David married Norah and not Caroline?
7. After Norah has successfully destroyed the wasps' nest, Edwards writes that there was something happening in Norah's life, "an explosion, some way in which life could never be the same" (p. 139). What does she mean, and what is the significance of Norah's "fight" with these wasps?
8. When David meets Rosemary (p. 267) it turns out to be a cathartic experience for him. What is it about her that enables David to finally speak the truth? Why does he feel compelled to take care of her?
9. The secret that David keeps is enormous and ultimately terribly destructive to himself and his family. Can you imagine a circumstance when it might be the right choice to shield those closest to you from the truth?
10. What do you think Norah's reaction would have been if David had been honest with her from the beginning? How might Norah have responded to the news that she had a daughter with Down's Syndrome? How might each of their lives have been different if David had not handed Phoebe to Caroline that fateful day?