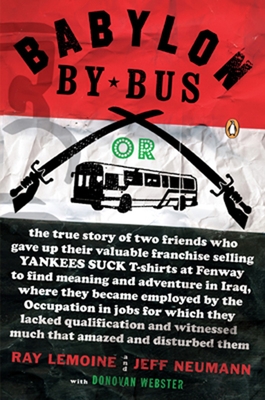 Babylon by Bus: Or, the True Story of Two Friends Who Gave Up Their Valuable Franchise Selling Yankees Suck T-Shirts at Fenway to Find (Paperback)
Or, the True Story of Two Friends Who Gave Up Their Valuable Franchise Selling Yankees Suck T-Shirts at Fenway to Find
Penguin Books, 9780143038160, 316pp.
Publication Date: August 1, 2007
* Individual store prices may vary.
or
Not Currently Available for Direct Purchase
Description
This all-access, inside-out view of what the American occupation of Iraq really looks like on the ground is the story of two young Americans who went to Baghdad without any real plan and discovered they weren't the only ones. Underqualified but ingenious, Ray and Jeff found work with the Coalition Provisional Authority providing humanitarian aid to the Iraqi people amid an appalling atmosphere of corruption, incompetence, and horror. Gritty and irreverent, this is a wild ride inside the Red Zone and a strikingly original portrait of the real Iraq.
About the Author
Ray LeMoine dropped out of Northeastern University in 1999 and spent the next five years running the "Yankees Suck" T-shirt operation outside Fenway Park. As CEO, he was based everywhere from Port-au-Prince, Haiti, to Spain's Basque region to Revere, Massachusetts. In early 2004, he traveled to Baghdad with Jeff Neumann to help spread freedom and democracy. He lives in New York.Jeff Neumann worked as a volunteer NGO coordinator for the Coalition Provisional Authority in Baghdad in early 2004 after several failed attempts at becoming a professional poker player. He currently resides in New York City and continues to travel as much as possible while trying to stay out of third-world jails.Donovan Webster is an award-winning journalist and author. His work has appeared in The New Yorker, National Geographic, Vanity Fair, Smithsonian, and The New York Times Magazine, among other publications. He is currently employed as spiritual adviser and bail bondsman for Jeff Neumann and Ray LeMoine.
Praise For Babylon by Bus: Or, the True Story of Two Friends Who Gave Up Their Valuable Franchise Selling Yankees Suck T-Shirts at Fenway to Find…
Innocents Abroad meets Fear and Loathing ... inside the mess of post-liberation Iraq. (Jon Lee Anderson, author of The Fall of Baghdad)

A report from the civilian front lines . . . funny, provocative, maddeningùand largely riveting. (Chicago Sun-Times)
Advertisement