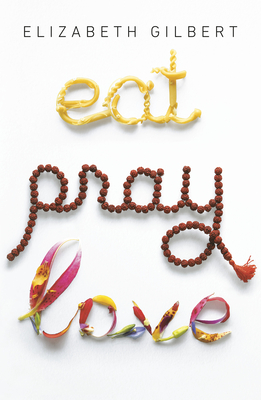 Eat Pray Love
One Woman's Search for Everything Across Italy, India and Indonesia
Paperback

* Individual store prices may vary.
Description
One of the most iconic, beloved, and bestselling books of our time from the bestselling author of City of Girls and Big Magic, Elizabeth Gilbert.

Elizabeth Gilbert's Eat Pray Love touched the world and changed countless lives, inspiring and empowering millions of readers to search for their own best selves. Now, this beloved and iconic book returns in a beautiful 10th anniversary edition, complete with an updated introduction from the author, to launch a whole new generation of fans.
 
In her early thirties, Elizabeth Gilbert had everything a modern American woman was supposed to want—husband, country home, successful career—but instead of feeling happy and fulfilled, she was consumed by panic and confusion. This wise and rapturous book is the story of how she left behind all these outward marks of success, and set out to explore three different aspects of her nature, against the backdrop of three different cultures: pleasure in Italy, devotion in India, and on the Indonesian island of Bali, a balance between worldly enjoyment and divine transcendence.
Praise For Eat Pray Love: One Woman's Search for Everything Across Italy, India and Indonesia…
"If a more wonderful writer than Gilbert is currently in print, I haven't found him or her... Gilbert's prose is fueled by a mix of intelligence, wit, and colloquial exuberance that is close to irresistible, and makes the reader only too glad to join the posse of friends and devotees who have the pleasure of listening in." —Jennifer Egan, The New York Times Book Review

"An engaging, intelligent, and highly entertaining memoir... [Her] account of her time in India is beautiful and honest and free of patchouli-scented obscurities." —Lev Grossman, Time

"A meditation on love in many forms... Gilbert's wry, unfettered account of her extraordinary journey makes even the most cynical reader dare to dream of someday finding God deep within a meditation cave in India, or perhaps over a transcendent slice of pizza." —Los Angeles Times

"Gilbert's memoir reads like the journal of your most insightful, funny friend as she describes encounters with healers, ex-junkies, and (yes!) kind, handsome men." —Glamour 

"Readable [and] funny... By the time she and her lover sailed into a Bali sunset, Gilbert had won me over. She's a gutsy gal, this Liz, flaunting her psychic wounds and her search for faith in a pop-culture world." —The Washington Post

"This insightful, funny account of her travels reads like a mix of Susan Orlean and Frances Mayes... Gilbert's journey is well worth taking." —Entertainment Weekly ("A" rating)

"Be advised that the supremely entertaining Eat Pray Love—a mid-thirties memoir by the endlessly talented Elizabeth Gilbert—is not just for the ladies, fellas." —GQ

"Compulsively readable... Think Carrie Bradshaw cut loose from her weekly column, her beloved New York City, and her trio of friends, riffing her way across the globe on an assortment of subjects ranging from the 'hands-down most amazing' Sicilian pasta she's ever tasted to her reason for buying sexy lingerie to our collective, species-driven instinct for being on the planet." —Elle

"Gilbert's exuberance and her self-deprecating humor enliven the proceedings: recalling the first time she attempted to speak directly to God, she says, 'It was all I could do to stop myself from saying, "I've always been a big fan of your work." ' " —The New Yorker

"An intriguing and substantive journey recounted with verve, humor, and insight. Others have preceded Gilbert in writing this sort of memoir, but few indeed have done it better." —Seattle Post-Intelligencer

"In this engrossing and captivating travel memoir, journalist Liz Gilbert globe-trots for a year to Italy, India, and Indonesia... Lucky for us, the lessons she learns are entirely importable." —Marie Claire

"Gilbert's writing is chatty and deep, confident and self-deprecating... that makes her work engaging and accessible." —San Francisco Chronicle

"As a friend--and as a writer--Gilbert is innocently trusting, generous, loving, and expressive." —The Boston Globe 

"Gilbert is an irresistible narrator—funny, self-deprecating, fiercely intelligent... [She's] such a sincere seeker... [It's] impossible not to applaud her breakthrough." —Salon.com

"An intimate account of a spiritual journey. But it's also a zippy travelogue with rich, likeable characters...You will laugh, cry, and love with a more open heart." —Rocky Mountain News

"Gilbert is a witty, funny, and likeable pilgrim on a hero's journey." —The Oregonian

"Run-of-the-mill envy doesn't begin to describe what many readers must feel when devouring Elizabeth Gilbert's Eat Pray Love." —St. Louis Post-Dispatch 

"A captivating storyteller with a gift for enlivening metaphors, Gilbert is Anne Lamott's hip, yoga-practicing, footloose younger sister, and readers will laugh and cry as she recounts her nervy and outlandish experiences and profiles the extraordinary people she meets... [Her] sensuous and audacious spiritual journey is as deeply pleasurable as it is enlightening." -Booklist (starred review)

"Sustaining a chatty, conspiratorial tone, Gilbert fully engages readers in the year's cultural and emotional tapestry—conveying rapture with infectious brio, recalling anguish with touching candor—as she details her exotic tableau with history, anecdote, and impression." —Publishers Weekly (starred review)

"Gilbert takes us on a pilgrimage, with the humor, insight, and charm that only come with honest self-revelation and good writing." —Jack Kornfield, The Omega Institute

"Spilling out of this funny (and profound) circus car of a book are dozens of mesmerizing characters; people you'll envy Liz Gilbert for finding, valuing, loving, and, I couldn't help noticing, joining for irresistible meals. I've never read an adventure quite like this one, where a writer packs up her entire life and takes it on the road." —Alan Richman

"This is a wonderful book, brilliant and personal, rich in spiritual insight... Gilbert is everything you would love in a tour guide of magical places she has traveled to both deep inside and across the oceans: she's wise, jaunty, human, ethereal, hilarious, heartbreaking, and, God, does she pay great attention to the things that really matter." —Anne Lamott
Riverhead Books, 9780143038412, 400pp.
Publication Date: January 30, 2007
About the Author
Elizabeth Gilbert is the #1 New York Times bestselling author of Big Magic, Eat Pray Love, and The Signature of All Things, as well as several other internationally bestselling books of fiction and nonfiction. She has been a finalist for the National Book Award, the National Book Critics Circle Award, and the PEN/Hemingway Award. Her latest novel, City of Girls, comes out in June, 2019.
1. Gilbert writes that "the appreciation of pleasure can be the anchor of humanity," making the argument that America is "an entertainment-seeking nation, not necessarily a pleasure-seeking one." Is this a fair assessment?
2. After imagining a petition to God for divorce, an exhausted Gilbert answers her phone to news that her husband has finally signed. During a moment of quietude before a Roman fountain, she opens her Louise Glück collection to a verse about a fountain, one reminiscent of the Balinese medicine man's drawing. After struggling to master a 182-verse daily prayer, she succeeds by focusing on her nephew, who suddenly is free from nightmares. Do these incidents of fortuitous timing signal fate? Cosmic unity? Coincidence?
3. Gilbert hashes out internal debates in a notebook, a place where she can argue with her inner demons and remind herself about the constancy of self-love. When an inner monologue becomes a literal conversation between a divided self, is this a sign of last resort or of self-reliance?
4. When Gilbert finally returns to Bali and seeks out the medicine man who foretold her return to study with him, he doesn't recognize her. Despite her despair, she persists in her attempts to spark his memory, eventually succeeding. How much of the success of Gilbert's journey do you attribute to persistence?
5. Prayer and meditation are both things that can be learned and, importantly, improved. In India, Gilbert learns a stoic, ascetic meditation technique. In Bali, she learns an approach based on smiling. Do you think the two can be synergistic? Or is Ketut Liyer right when he describes them as "same-same"?
6. Gender roles come up repeatedly in Eat, Pray, Love, be it macho Italian men eating cream puffs after a home team's soccer loss, or a young Indian's disdain for the marriage she will be expected to embark upon at age eighteen, or the Balinese healer's sly approach to male impotence in a society where women are assumed responsible for their childlessness. How relevant is Gilbert's gender?
7. In what ways is spiritual success similar to other forms of success? How is it different? Can they be so fundamentally different that they're not comparable?
8. Do you think people are more open to new experiences when they travel? And why?
9. Abstinence in Italy seems extreme, but necessary, for a woman who has repeatedly moved from one man's arms to another's. After all, it's only after Gilbert has found herself that she can share herself fully in love. What does this say about her earlier relationships?
10. Gilbert mentions her ease at making friends, regardless of where she is. At one point at the ashram, she realizes that she is too sociable and decides to embark on a period of silence, to become the Quiet Girl in the Back of the Temple. It is just after making this decision that she is assigned the role of ashram key hostess. What does this say about honing one's nature rather than trying to escape it? Do you think perceived faults can be transformed into strengths rather than merely repressed?
11. Sitting in an outdoor café in Rome, Gilbert's friend declares that every city—and every person—has a word. Rome's is "sex," the Vatican's "power"; Gilbert declares New York's to be "achieve," but only later stumbles upon her own word,antevasin, Sanskrit for "one who lives at the border." What is your word? Is it possible to choose a word that retains its truth for a lifetime?
Coverage from NPR