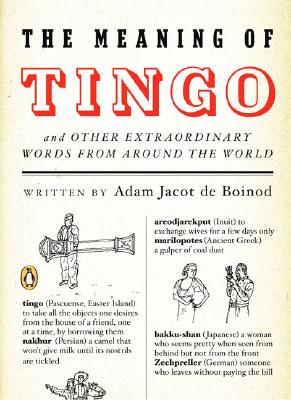 The Meaning of Tingo
and Other Extraordinary Words from Around the World
Paperback

* Individual store prices may vary.
Other Editions of This Title:
Paperback (12/1/2006)
Description
A divine gift for the word-obsessed--a deliciously eccentric world tour of words that have no English equivalent
The countless language freaks who've worn out their copies of Eats, Shoots and Leaves will find inexhaustible distraction in The Meaning of Tingo. Where else will they discover that Bolivians have a word that means "I was rather too drunk last night and it's all their fault"? As for tingo, on Easter Island it means "to take all the objects one desires from the house of a friend, one at a time, by borrowing them." Organized by themes such as food, the human body, and sex and love, this irresistible book combs through more than 254 languages in search of those gorgeous oddities that have no direct English counterpart--words so strange and apt that if they didn't exist, they would have to be invented.

Highlights from The Meaning of Tingo:
* mencomet (Indonesian): stealing things of small value such as food or drinks, partly for fun
* scheissbedauern (German): the disappointment one feels when something turns out not nearly as badly as one had hoped
* mono-no-aware (Japanese): appreciating the sadness of existence
* mahj (Persian): looking beautiful after disease
* plimpplamppletteren (Dutch): the skimming of a flat stone as many times as possible across the surface of the water
* koshatnik (Russian): a dealer in stolen cats
* ava (Tahitian): wife (but also means whisky)
Penguin Books, 9780143038528, 224pp.
Publication Date: February 27, 2007
or
Not Currently Available for Direct Purchase