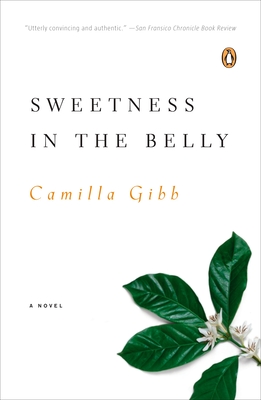 Sweetness in the Belly
Paperback

* Individual store prices may vary.
Other Editions of This Title:
Digital Audiobook (7/29/2019)
Paperback (2/1/2006)
Description
Soon to be a major motion picture starring Dakota Fanning

Like Brick Lane and The Kite Runner, Camilla Gibb's widely praised new novel is a poignant and intensely atmospheric look beyond the stereotypes of Islam. After her hippie British parents are murdered, Lilly is raised at a Sufi shrine in Morocco. As a young woman she goes on pilgrimage to Harar, Ethiopia, where she teaches Qur'an to children and falls in love with an idealistic doctor. But even swathed in a traditional headscarf, Lilly can't escape being marked as a foreigner. Forced to flee Ethiopia for England, she must once again confront the riddle of who she is and where she belongs.
Praise For Sweetness in the Belly…
Utterly convincing and authentic . . . a novel that will take you to a place so far from yourself that you may wonder, from time to time, whether you are ever coming back. (San Francisco Chronicle)

A story that pierces the heart . . . a lovely and humane book that . . . open[s] up to view distant or closed worlds. (The Miami Herald)

A wonderful feat of imagination and empathy. I had to suppress bitter feelings of literary envy, even as I couldn't stop devouring it. (Louis de Bernieres, author of Captain Corelli's Mandolin)
Penguin Books, 9780143038726, 368pp.
Publication Date: March 27, 2007
About the Author
Camilla Gibb was born in London, England, and grew up in Toronto. She has a Ph.D. in social anthropology from Oxford University for which she conducted fieldwork in Ethiopia. Her two previous novels, Mouthing the Words, winner of the City of Toronto Book Award in 2000, and The Petty Details of So-and-So's Life, have been published in eighteen countries and translated into fourteen languages, receiving rave reviews all around the world. She is one of twenty-one writers on the Orange Futures List—a list of young writers to watch, compiled by the jury of the prestigious Orange Prize. Camilla lives in Toronto, where she serves as vice president of PEN Canada and is currently writerin-residence at the University of Toronto.
Discuss Lilly's role as an outsider and her struggle for acceptance both as a farenji in Harar and as a white Muslim in London. Who else in the novel could be considered an outsider?
What do the words "family" and "home" mean to Lilly? How does her view of herself as an orphan evolve over the course of the novel?
"Faith has accompanied me over time and geography and upheaval," says Lilly. For her, love and Islam "have always been one." Did Sweetness in the Belly in any way alter or broaden your understanding of Islam? Consider, for instance, the notion of jihad or holy war.
Sweetness in the Belly alternates between Harar, Ethiopia, in the 70s, and London, England, in the 80s and early 90s. What qualities does this crosscutting of time and place impart to the narrative?
In the chapter entitled "Exile," Lilly observes that "the smell of coffee draws women together, an olfactory call throughout a neighborhood luring women from their homes to gather…" Later in the chapter, the act of twisting a mortar over coffee beans and cardamom triggers in her a surge of nightmarish images from the Red Terror. Of the many lush sensory details in the novel—both fair and foul—which affected you the most?
While living in Ethiopia, Camilla Gibb witnessed a female circumcision. A doctoral student in social anthropology at the time, she says she had to "understand it in the context of the community in which it was taking place, and not judge." When Nouria's daughters are circumcised in Sweetness in the Belly, how does Lilly react as the only Western-born character in the scene? How did you react as a reader?
Based on your reading of Sweetness in the Belly, what feelings and psychological states are associated with the experience of exile? How do Amina and Yusuf, for example, cope with their respective traumas?
In Harar, Aziz is called a "black savage, African slave, barbarian, pagan." In London, Lilly is called a "white fu'in Paki." Discuss the notion of "otherness" in the novel. How do artificial divisions manifest themselves based on ethnicity, class, race, religion and gender?
Discuss the ways in which the female characters ensure their survival and empower themselves despite the gender divisions within their communities.
What does Lilly mean when she says that Aziz "unveiled" her? How does she reconcile her love for him with her love of Islam?