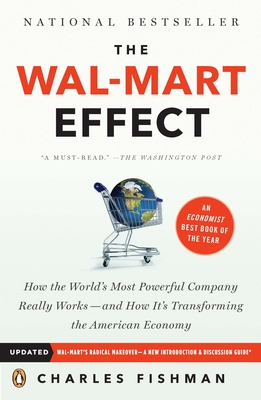 The Wal-Mart Effect (Paperback)
How the World's Most Powerful Company Really Works--And How It's Transforming the American Economy
Penguin Books, 9780143038788, 320pp.
Publication Date: January 1, 2007
Description
Wal-Mart isn't just the world's biggest company, it is probably the world's most written-about. But no book until this one has managed to penetrate its wall of silence or go beyond the usual polemics to analyze its actual effects on its customers, workers, and suppliers. Drawing on unprecedented interviews with former Wal-Mart executives and a wealth of staggering data (e.g., Americans spend $36 million an hour at Wal-Mart stores, and in 2004 its growth alone was bigger than the total revenue of 469 of the Fortune 500), The Wal-Mart Effect is an intimate look at a business that is dramatically reshaping our lives.
About the Author
Charles Fishman has been a senior editor at the Orlando Sentinel and the News & Observer and is now a senior editor at Fast Company. In 2005 he won the prestigious Gerald Loeb Award for business journalism.
Praise For The Wal-Mart Effect: How the World's Most Powerful Company Really Works--And How It's Transforming the American Economy…
The best Wal-Mart expose yet . . . as measured by depth and breadth of research, writing style, and evenhanded treatment. (The Denver Post)

Highly readable, incisive, precise, and even elegant. (San Francisco Chronicle)

The Wal-Mart Effect is an interesting look at how big corporations affect our planet in positive and negative ways. The strength . . . is in the stories about the lives that Wal-Mart has touched, set against the backdrop of an astounding array of data. (USA Today)

Insightful. (BusinessWeek)

The Wal-Mart Effect saunters through the influential economic ecosystem that the discount chain represents with clarity, compelling nuance, and refreshing objectivity. (The Christian Science Monitor)

A must-read if one is even to begin understanding the global dominance of Wal-Mart. (The Washington Post)
Advertisement