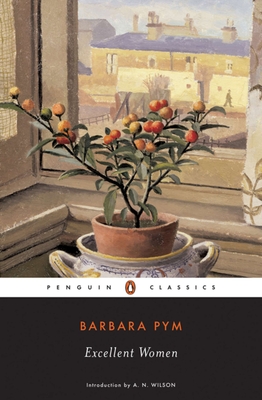 Excellent Women (Paperback)
Penguin Books, 9780143104872, 231pp.
Publication Date: January 1, 2007
* Individual store prices may vary.
or
Not Currently Available for Direct Purchase
Description
Excellent Women is one of Barbara Pym's richest and most amusing high comedies. Mildred Lathbury is a clergyman's daughter and a mild-mannered spinster in 1950s England. She is one of those "excellent women," the smart, supportive, repressed women who men take for granted. As Mildred gets embroiled in the lives of her new neighbors--anthropologist Helena Napier and her handsome, dashing husband, Rocky, and Julian Malory, the vicar next door--the novel presents a series of snapshots of human life as actually, and pluckily, lived in a vanishing world of manners and repressed desires.
About the Author
A writer from the age of sixteen, Barbara Pym has been acclaimed as "the most underrated writer of the century" (Philip Larkin). Pym's substantial reputation evolved through the publication of six novels from 1950 to 1961, then resumed in 1977 with the publication of Quartet in Autumn and three other novels. She died in 1980. A. N. Wilson is the author of biographies on Jesus, Milton, Tolstoy, C. S. Lewis, and Dante. His acclaimed histories, The Victorians and God's Funeral, have made him an authority on Victorian-era Great Britain. A former columnist for the London Evening Standard, he now contributes to the Times Literary Supplement, New Statesman, the Spectator, the Observer and the Daily Mail.
Praise For Excellent Women…
[One of] the finest examples of high comedy to have appeared in England during the past seventy-five years. (Lord David Cecil)

A startling reminder that solitude may be chosen and that a lively, full novel can be constructed entirely within the precincts of that regressive virtue, feminine patience. (John Updike, The New Yorker)

Reading Barbara Pym is . . . a wonderful experience, full of unduplicable perceptions, sensations, and soul-stirrings. (Newsweek)
Advertisement