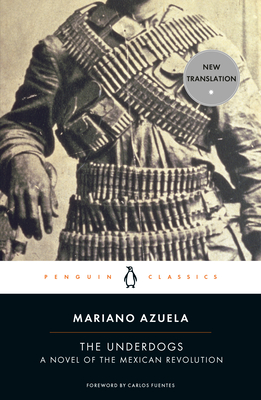 The Underdogs: A Novel of the Mexican Revolution (Paperback)
A Novel of the Mexican Revolution
Penguin Books, 9780143105275, 148pp.
Publication Date: August 1, 2008
Description
The greatest novel of the Mexican Revolution, in a brilliant new translation by an award-winning translator The Underdogs is the first great novel about the first great revolution of the twentieth century. Demetrio Macias, a poor, illiterate Indian, must join the rebels to save his family. Courageous and charismatic, he earns a generalship in Pancho Villa's army, only to become discouraged with the cause after it becomes hopelessly factionalized. At once a spare, moving depiction of the limits of political idealism, an authentic representation of Mexico's peasant life, and a timeless portrait of revolution, The Underdogs is an iconic novel of the Latin American experience and a powerful novel about the disillusionment of war.
About the Author
Mariano Azuela (1873-1952) studied medicine in Guadalajara and served during the revolution as a doctor with the forces of Pancho Villa, which gave him firsthand exposure to the events and characters that appear in The Underdogs. Sergio Waisman (translator, notes) is the recipient of a National Endowment for the Arts Translation Award and is a professor of Spanish at George Washington University in Washington, D.C. Carlos Fuentes (1928-2012, foreword) is the author of more than twenty books and the recipient of many awards, including Mexico's National Prize in Literature, the Cervantes Prize, and the inaugural Latin Civilization Award.
Advertisement