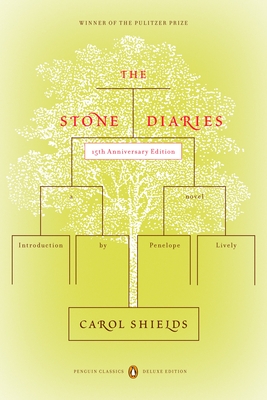 The Stone Diaries (Paperback)
(Penguin Classics Deluxe Edition)
Penguin Classics, 9780143105503, 304pp.
Publication Date: September 30, 2008
* Individual store prices may vary.
Description
In celebration of the fifteenth anniversary of its original publication, Carol Shields's Pulitzer Prize-winning novel is now available in a Penguin Classics Deluxe Edition

One of the most successful and acclaimed novels of our time, this fictionalized autobiography of Daisy Goodwill Flett is a subtle but affecting portrait of an everywoman reflecting on an unconventional life. What transforms this seemingly ordinary tale is the richness of Daisy's vividly described inner life--from her earliest memories of her adoptive mother to her awareness of impending death.

For more than seventy years, Penguin has been the leading publisher of classic literature in the English-speaking world. With more than 1,700 titles, Penguin Classics represents a global bookshelf of the best works throughout history and across genres and disciplines. Readers trust the series to provide authoritative texts enhanced by introductions and notes by distinguished scholars and contemporary authors, as well as up-to-date translations by award-winning translators.
About the Author
Carol Shields
(1935-2003) is the author of
The Stone Diaries
, which won the 1995 Pulitzer Prize for fiction, the National Book Critics Circle Award, and Canada's Governor General's Award. Her other novels and short-story collections include
The Republic of Love, Happenstance, Swann, The Orange Fish, Various Miracles, The Box Garden,
and
Small Ceremonies
(all available from Penguin).
Penelope Lively grew up in Egypt but settled in England after the war and took a degree in history at St Anne's College, Oxford. She is a Fellow of the Royal Society of Literature, and a member of PEN and the Society of Authors. She was married to the late Professor Jack Lively, has a daughter, a son and four grandchildren, and lives in Oxfordshire and London.
Penelope Lively is the author of many prize-winning novels and short story collections for both adults and children. She has twice been shortlisted for the Booker Prize; once in 1977 for her first novel, The Road to Lichfield, and again in 1984 for According to Mark. She later won the 1987 Booker Prize for her highly acclaimed novel Moon Tiger. Her novels include Passing On, shortlisted for the 1989 Sunday Express Book of the Year Award, City of the Mind, Cleopatra's Sister and Heat Wave.
Penelope Lively has also written radio and television scripts and has acted as presenter for a BBC Radio 4 program on children's literature. She is a popular writer for children and has won both the Carnegie Medal and the Whitbread Award.
Praise For The Stone Diaries: (Penguin Classics Deluxe Edition)…
Winner of the Pulitzer Prize for Fiction
The first chapter of this novel is the only one that is narrated entirely in the first person. Why might the author have chosen to shift narrative voices? At what points in the book does the narrative "I" return? Who do you think is telling Daisy's story?
What irony is implicit in the fact that Mercy Goodwill is unaware of her own pregnancy? Compare this near-virgin birth to Daisy's own catastrophically chaste honeymoon. How do this novel's female characters experience sex, pregnancy and childbirth?
Although Daisy describes her mother as "extraordinarily obese" and taller than her husband, a photo reveals that Mercy Goodwill is actually shorter than Cuyler and no more than ordinarily husky. Is Daisy lying? Or does she merely have "a little trouble with getting things straight?" Where else are there discrepancies between Daisy's version of her life and the book's "documentation?"
From the passionate Cuyler Goodwill to Barker Flett, who is smitten with Daisy while she is still a child, the men in this novel are both erotically enthralled by women and fulfilled by their relationships with them. In contrast, their wives seem bewildered by, indifferent to, or at best serenely tolerant of their husbands' ardor. Does The Stone Diaries subvert traditional sex roles? Where do Daisy and the novel's other female characters derive their greatest pleasure and fulfillment? How badly do Shields's women need men?
When Cuyler Goodwill loses his wife he builds her a tower. When his daughter loses her first husband, she never tells the story to another soul. What might account for her reticence? How deeply does Daisy seem to love either of her husbands? On the other hand, how trustworthy are these characters' public displays of emotion?
"Life is an endless recruiting of witnesses." This observation in the first chapter seems borne out by the constant stream of secondary characters who intrude into Daisy's life story and at times commandeer it. What role does Daisy—or Carol Shields—assign "witnesses" like the Jewish peddler Abram Gozhd' Skutari, the bicyclist who kills Clarentine Flett, or Cuyler Goodwill's housekeeper? Why might these characters reappear in the narrative years after their initial entrances? How trustworthy are their interpretations of Daisy's life and character?
Although Cuyler Goodwill builds a tower in his wife's memory, he is unable to remember her name at the time of his own death. Magnus Flett is able to recite much of Jane Eyre from memory well into his hundreds. And, even as small children, Alice, Warren and Joan Flett "take turns comparing and repeating their separate and shared memories and shivering with pleasure every time a fresh fragment from the past is unearthed." What role does memory play in The Stone Diaries? How much of Daisy's diary is remembered, and how much imagined?
In the chapter entitled "Sorrow," a number of characters offer explanations for Daisy's depression. How accurate are any of these? Are we given any reason to trust one interpretation over others? How well do any of Daisy's intimates really know her? How well does the reader know her by the book's close?
How does Daisy influence her children or determine the choices they make in their own lives? Does she seem to do so at all? What kinds of lessons does she impart to them? Is Daisy Flett a "good" mother, a "good" wife or daughter? Does The Stone Diaries allow us to make such easy judgments about its protagonist?