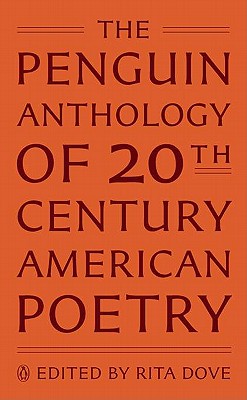 The Penguin Anthology of 20th-Century American Poetry
Hardcover

* Individual store prices may vary.
Other Editions of This Title:
Paperback (9/24/2013)
Description
Penguin proudly presents an unparalleled survey of the best poems of the past century.
Rita Dove, Pulitzer Prize-winning poet and former U .S. Poet Laureate, introduces readers to the most significant and compelling poems of the past hundred years. Selecting from the canon of American poetry throughout the twentieth century, Dove has created an anthology that represents the full spectrum of aesthetic sensibilities-from styles and voices to themes and cultures-while balancing important poems with significant periods of each poet. Featuring poems both classic and contemporary, this collection reflects both a dynamic and cohesive portrait of modern American poetry and outlines its trajectory over the past century.
Praise For The Penguin Anthology of 20th-Century American Poetry…
"Former U.S. Poet Laureate Dove takes a fresh look at the canon of 20th century American poetry in this hefty anthology [...] This book is sure to become an important resource for those interested in poetry, and especially students, for decades to come." — Publishers Weekly [Starredreview]

"Selecting poets and poems to represent a century of poetry, especially the riotous twentieth century in America, is a massive undertaking fraught with peril and complication. Poet Rita Dove-a Pulitzer Prize- winning former U.S. poet laureate, professor, and presidential scholar- embarked on what became a consuming four-year odyssey. She reports on obstacles and discoveries in an exacting and forthright introduction, featuring striking quotes, vivid profiles, and a panoramic view of the evolution of poetic visions and styles that helped bring about social as well as artistic change [...] Dove's incisive perception of the role of poetry in cultural and social awakenings infuses this zestful and rigorous gathering of poems both necessary and unexpected by 180 American poets. This landmark anthology will instantly enhance and invigorate every poetry shelf or section." — Donna Seaman for Booklist

"At last, 20th century poetry itself! Rita Dove's [anthology] is intelligent, generous, surprising, and altogether thrilling to read- literally, a heart-thumping collection. In her editorial hands the 20th century is broad but sharply contoured. Most other poetry anthologies give us schools, corners, clubs, and identities, but this one gives us something beyond representative that gets at the extraordinary accomplishment and range of multi-vocal American poetry in the century. Dove's selection-and this book-will long stand as the definitive anthology of American poetry." — Elizabeth Alexander

"The Penguin Anthology of 20th Century American Poetry has the solid, respectable, upright feel of a book bound for the syllabuses of myriad college courses. But it also has enough surprises to make it ideal for the rest of us too. It belongs on the bedside table as well as in a backpack." — The Chicago Tribune
Penguin Books, 9780143106432, 656pp.
Publication Date: October 25, 2011
About the Author
Rita Dove is an award-winning poet, former U .S. Poet Laureate, and Presidential Scholar. She has published numerous volumes of poetry, fiction, plays, and essays. She is Commonwealth Professor of English at the University of Virginia in Charlottesville, where she lives with her husband, the writer Fred Viebahn.
or
Not Currently Available for Direct Purchase