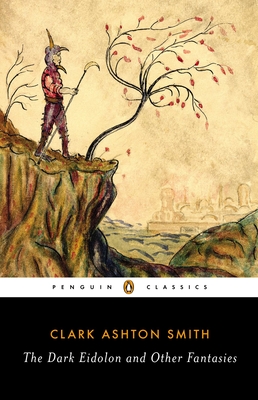 The Dark Eidolon and Other Fantasies (Paperback)
Penguin Classics, 9780143107385, 400pp.
Publication Date: March 25, 2014
* Individual store prices may vary.
Description
A much-awaited collection of prose and poetry from one of the great cosmic masters of the supernatural

Not just any fantasy, horror, and science fiction author could impress H. P. Lovecraft into calling him "unexcelled by any other writer, dead or living" or compel Fritz Lieber to employ the worthy term sui generis. Clark Ashton Smith—autodidact, prolific poet, amateur philosopher, bizarre sculptor, and unmatched storyteller—simply wrote like no one else, before or since. This new collection of his very best tales and poems is selected and introduced by supernatural literature scholar S. T. Joshi and allows readers to encounter Smith's visionary brand of fantastical, phantasmagorical worlds, each one filled with invention, terror, and a superlative sense of metaphysical wonder.

For more than seventy years, Penguin has been the leading publisher of classic literature in the English-speaking world. With more than 1,700 titles, Penguin Classics represents a global bookshelf of the best works throughout history and across genres and disciplines. Readers trust the series to provide authoritative texts enhanced by introductions and notes by distinguished scholars and contemporary authors, as well as up-to-date translations by award-winning translators.
About the Author
Clark Ashton Smith (1893–1961) was a poet, an artist, and the author of more than a hundred tales of fantasy and horror. He was a member of the famous "Lovecraft circle" and was a major contributor to Weird Tales, along with Robert E. Howard and Lovecraft himself.

S. T. Joshi is a freelance writer and editor. He has edited several Penguin Classics volumes, including The Call of Cthulhu, The White People and Other Weird Stories, and American Supernatural Tales.
Praise For The Dark Eidolon and Other Fantasies…
"[Smith] is a fantasist with a much subtler graph of what gives the genre known as 'weird fiction' its own peculiar delights...Smith's vision echoes through popular culture...'The Vaults of Yoh-Vombis' [is] the template for later science fiction horrors such as Alien and The Thing—just as 'The Dark Eidolon' itself looks ahead to every evil sorcerer in fantasy novels and films."
—Peter Bebergal, Times Literary Supplement

"In sheer daemonic strangeness and fertility of conception, he is perhaps unexcelled by any other writer, dead or living. Who else has seen such gorgeous, luxurious, and feverishly distorted visions of infinite spheres and lived to tell the tale?"
—H. P. Lovecraft

"Smith is sui generis, one of the most uninfluenced and original writers I know of. A germ from Poe, a little fire from George Sterling, perhaps an acid drop from Bierce, the color and cruelty of Eastern Legends."
—Fritz Leiber

"Incredible worlds, impossibly beautiful cities, and still more fantastic creatures. . . Take one step across the threshold of his stories and you plunge into colour, sound, taste, smell and texture: into language."
—Ray Bradbury

"It is often impossible to say where man's inspirations come from . . .  my impetus remains as bright and compelling as it was the day I removed it from a library shelf . . . and passed—incredibly!—out of that building through a portal to the City where the Singing Flame lived."
—Harlan Ellison