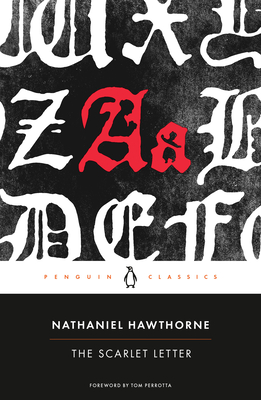 The Scarlet Letter (Paperback)
Penguin Classics, 9780143107668, 288pp.
Publication Date: December 1, 2015
Other Editions of This Title:
Paperback (12/6/2013)
Paperback (10/25/2005)
Paperback (10/27/2016)
Paperback (10/13/2016)
Paperback (9/27/2015)
Paperback (7/12/2010)
Paperback (11/28/2017)
Paperback (8/22/2017)
Paperback (12/20/2019)
Paperback (10/17/2018)
Paperback (2/5/2017)
Paperback (3/2/2017)
Paperback (12/31/2009)
Paperback (9/29/2018)
Paperback (12/22/2019)
Paperback (12/16/2017)
Paperback (11/7/2016)
Paperback (12/5/2017)
Paperback (10/27/2016)
Paperback (12/22/2019)
* Individual store prices may vary.
Description
The canonical American masterpiece of sin, guilt, and revenge, in an authoritative new edition from Penguin Classics with a foreword by Tom Perrotta
 
At once retrospective and radically new, The Scarlet Letter portrays seventeenth-century Puritan New England, a time period irreversibly encoded in the American identity. Hawthorne built one of the most incisive and devastating human dramas ever written out of a community and its outcasts: Hester Prynne and Arthur Dimmesdale, whose affair leaves one emblazoned with her sin and the other distraught with hidden guilt; their daughter Pearl, born into ostracism; and Roger Chillingworth, driven to vengeance by hatred. Though these characters face a set of specifically troubling circumstances, their words and actions point to moral truths inherent in human affairs, independent of time and place. 
 
The text of this edition, approved by the Center for Scholarly Editions of the Modern Language Association, is the result of an exhaustive examination of Hawthorne's manuscript and other historical records. Robert Milder provides an enlightening new scholarly introduction and bibliography. Tom Perrotta, whose novel The Leftovers—now a hit HBO show—was influenced by Hawthorne's work, provides a thoughtful foreword on how he came to appreciate Hawthorne's masterpiece.

For more than sixty-five years, Penguin has been the leading publisher of classic literature in the English-speaking world. With more than 1,500 titles, Penguin Classics represents a global bookshelf of the best works throughout history and across genres and disciplines. Readers trust the series to provide authoritative texts enhanced by introductions and notes by distinguished scholars and contemporary authors, as well as up-to-date translations by award-winning translators.
About the Author
Nathaniel Hawthorne (1804–1864) was born in Salem, Massachusetts, where he wrote the bulk of his masterful tales of colonial American history.

Tom Perrotta (foreword) is the author of two short story collections and six novels, including Election, Little Children, and The Leftovers, which has been adapted for television by HBO. He lives in Boston.

Robert Milder (introduction) is a professor of English at Washington University in St. Louis. He is the author of three books, including Hawthorne's Habitations: A Literary Life.

Thomas E. Connolly (notes; 1918–2002) was a literary critic and professor of English at the University of Buffalo.
Praise For The Scarlet Letter…
"[Nathaniel Hawthorne] recaptured, for his New England, the essence of Greek tragedy." --Malcolm Cowley