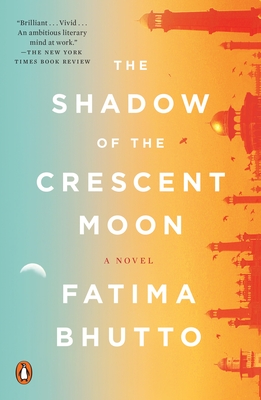 The Shadow of the Crescent Moon
A Novel
Paperback

* Individual store prices may vary.
Other Editions of This Title:
Hardcover (3/24/2015)
Description
Long-listed for the Baileys Women's Prize for Fiction, a lyrical novel set over the course of one morning in a small town in Pakistan
 
Fatima Bhutto's stunning debut novel chronicles the lives of five young people trying to live and love in a world on fire. Set during the American invasion of Afghanistan, The Shadow of the Crescent Moon begins and ends one rain-swept Friday morning in Mir Ali, a small town in Pakistan's Tribal Areas close to the Afghan border.
 
Three brothers meet for breakfast. Soon after, the eldest, Aman Erum, recently returned from America, hails a taxi to the local mosque. Sikandar, a doctor, drives to the hospital where he works, but must first stop to collect his troubled wife, Mina, who has not joined the family that morning. No one knows where Mina goes these days. But when, later in the morning, the two are taken hostage by members of the Taliban, Mina will prove to be stronger than anyone could have imagined.
 
The youngest of the three leaves for town on a motorbike. An idealist, Hayat holds strong to his deathbed promise to their father—to free Mir Ali from oppressors. Seated behind him is a beautiful, fragile girl whose life and thoughts are overwhelmed by the war that has enveloped the place of her birth.
 
Three hours later their day will end in devastating circumstances.
 
In this beautifully observed novel, individuals are pushed to make terrible choices. And as the events of this single morning unfold, a family and a country are forever changed.
 
"Brilliant . . . vivid . . . Anyone curious about this remote frontier region can experience its touch and feel, even its taste, through Bhutto's portraits of its daily life." —The New York Times Book Review
Praise For The Shadow of the Crescent Moon: A Novel…

The New York Times Book Review
: 
"Brilliant…Vivid…Anyone curious about this remote frontier region can experience its touch and feel, even its taste, through Bhutto's portraits of its daily life… It's clear that there is an ambitious literary mind at work in 'The Shadow of the Crescent Moon.' This is no cookie-cutter thriller by a spoiled jet setter. [Bhutto's] talent is evident, even exciting. If she has the requisite single-mindedness, she could well turn out to be one of Nabokov's enchanters."
The New Yorker:
"[An] elegant début…Bhutto…delineates the politics of this cruel battlefield in stark, sinewy prose…Out of this bleakness come moments of singular beauty."

Sam Sacks, Wall Street Journal
:
"The Shadow of the Crescent Moon complicates all the expected narratives of the war on terror…Engrossing."


Alan Cheuse, NPR's All Things Considered
: 
"An intense and powerful work of fiction…Crescent Moon rises above melodrama, tying us to the page at the same time it presents us with larger questions about the troubled people of this troubled region. Bhutto works with the delicacy of a poet and the prime-time urgency of a front-line correspondent in order to capture these tortured cries of her beloved country."
Vanity Fair
: 
"[A] commanding debut."
Liesl Schillinger, Barnes & Noble Review
:
"Exquisite and disturbing … [Bhutto] gives the reader a visceral sense of how destabilizing it feels on a personal level when 'violence has started to follow you home,' not for days or weeks but for years…Bhutto deftly interconnects these sensitive, warring wires in her novel, assembling a plot  as puzzling and intricate as a time bomb. Her artistry impresses; she shows how much delicacy and risk go into building the machinery of change; how terribly difficult it is to put the pieces back together when it breaks; and how little it takes to blow it all apart."


Publishers Weekly: 
"[A] promising debut… Bhutto's characters and story are compelling and richly drawn."
Kirkus
: 
"[THE SHADOW OF THE CRESCENT MOON] rotates among the points of view of three brothers, telling stories of past and present violence and building to a fever pitch of terror…Bhutto has crafted a timely, earnest portrait of a family torn apart by the machinations of other people's war games and desperately trying to survive."
Jeet Thayil, author of Narcopolis:
"This spare propulsive novel makes a region rarely seen in contemporary fiction seem familiar, even intimate. Most notably, it portrays love and war as twin antagonists in the oldest of conflict zones, the family."
Héctor Abad, author of Oblivion: A Memoir:

"Three brothers and three destinies—Personal advantage, altruism and a political struggle. Each one with his motives and small and large heroisms. A mature and extraordinary first novel which reads like a politico-religious thriller. It allows a reader to enter one of the most complex regions of the world—the frontier zone between Pakistan and Afghanistan."
Pankaj Mishra, author of From the Ruins of Empire: The Revolt Against the West and the Remaking of Asia:
"A first novel of uncommon poise and acuity, The Shadow of the Crescent Moon is set in an old and protracted war for land and dignity. But its swift and suspenseful narrative describes a fiercely contemporary battle in the human heart: between the seductive fantasy of personal freedom and the tenacious claims of family, community and history."
Financial Times:

"[
The Shadow of the Crescent Moon
] is... a human story, with love as well as ideology - Bhutto blends the two adroitly (and) writes with great poignancy, keeping the emotional pitch high."
The Times (UK):
"Bhutto writes of an extraordinary place where beauty lives alongside brutality, with superb poise and a kind of defiant lyricism."
The National (UK):
"Stunning... Few debut novels can adequately explore such colossal themes as betrayal and allegiance, or persuasively render fear, doubt and determination."
Radio 4 (UK):
"Incredibly ambitious, extremely powerful and moving."
Company Magazine (UK):
"Stunningly worded."
Mail on Sunday (UK):
"Concise, elegant. Bhutto is a gifted and compelling writer, economically and poetically summoning up this beautiful mountainous backwater."
Sunday Express (UK):
"Powerful, compelling, moving inexorably to a devastating conclusion."
Evening Standard (UK):
"[Explores] the divisive split between those suffering from the direct consequences of war and a generation of unaware, complacent young Pakistanis."
New Statesman (UK) Books of the Year:
"It's a heart-stopping thriller, as well as an important political commentary about oppression, occupation and war. Most strikingly, though, it's a devastating love story."
Observer (UK):
"The novel is set over the course of one morning in a small town in Pakistan's tribal regions [and] follows the story of three brothers who are forced to make difficult choices. But the heart of the novel, for Bhutto, lies in the female characters."
Sunday Telegraph (UK):
"Thought-provoking. Above all, what The Shadow of the Crescent Moon captures so well is not just the trauma of war, but also the conflicts of contemporary Pakistanis, torn between remaining faithful to the legacy of previous generations, and their own dreams of choosing their own destiny."
From the Hardcover edition.
Penguin Books, 9780143107866, 240pp.
Publication Date: February 2, 2016
About the Author
Fatima Bhutto was born in Kabul, Afghanistan, grew up in Damascus, Syria, and lives in Karachi, Pakistan. Bhutto, a graduate of Barnard College, has written a volume of poetry, Whispers of the Desert; a memoir, Songs of Blood and Sword; and compiled a collection of firsthand accounts from survivors of the 2005 earthquake in Pakistan entitled 8.50 a.m. 8 October 2005. This is her first novel.
or
Not Currently Available for Direct Purchase