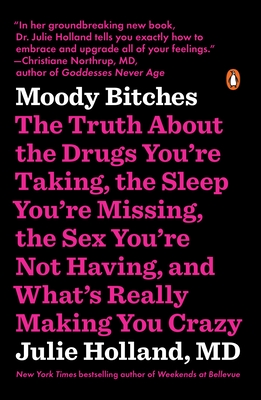 Moody Bitches
The Truth About the Drugs You're Taking, the Sleep You're Missing, the Sex You're Not Having, and What's Really Making You Crazy
Paperback

* Individual store prices may vary.
Other Editions of This Title:
Digital Audiobook (3/2/2015)
Hardcover (3/3/2015)
Compact Disc (3/3/2015)
Description
A groundbreaking guide for women of all ages that shows their natural moodiness is a strength, not a weakness
 
As women, we learn from an early age that our moods are a problem, an annoyance to be stuffed away. But our bodies are wiser than we imagine. Moods are a finely tuned feedback system that allows us to be more empathic, intuitive, and aware of our own capabilities. If we deny our emotionality, we deny the breadth of our talents.
 
Yet millions of American women are medicating away their emotions with psychiatric drugs whose effects are more far-reaching than most of us realize. And even if we don't pop a pill, women everywhere are numbing their emotions with food, alcohol, and a host of addictive behaviors that deny the wisdom of our bodies and keep us from addressing the real issues we face.
 
Psychiatrist Julie Holland knows there is a better way. In Moody Bitches, she shares insider information about the drugs we're being offered and the direct link between food and mood, and she offers practical advice on sex, exercise, and sleep strategies, as well as some surprisingly effective natural therapies. In the tradition of Our Bodies, Our Selves, this groundbreaking guide will forge a much needed new path in women's health—and offer women invaluable information on how to live better, and be more balanced, at every stage of life.
Praise For Moody Bitches: The Truth About the Drugs You're Taking, the Sleep You're Missing, the Sex You're Not Having, and What's Really Making You Crazy…
Library Journal: 
"In a frank style—think good friend who's a doctor—Holland examines how prescription drugs work in relation to the stages of women's lives. This guidance is aligned with recommendations for healthy diet and exercise practices that naturally equalize the body's systems." 

Christiane Northrup, M.D., author of Women's Bodies, Women's Wisdom:
"Feeling moody or bitchy doesn't mean you have a substandard brain or a psychiatric-medication-du-jour deficiency. In her groundbreaking new book, psychiatrist Dr. Julie Holland tells you exactly how to work with your unique brain and body chemistry and embrace and upgrade all of your feelings."

Laura Corio, M.D., author of The Change Before the Change: 
"Not just informative, Moody Bitches is funny and provocative. An important guide to health and well being for women of all ages."

Douglas Rushkoff, author of Present Shock: 
"This is the most important book on being a woman since Our Bodies, Our Selves. Scientific yet compassionate, Dr. Julie Holland provides actionable, state-of-the-art advice on how women can navigate through an ever-changing hormonal landscape. She not only gives women new command over their bodies, but also shows how extreme moods and emotions might better be listened to than chemically suppressed."

Gabor Maté, M.D., author of When the Body Says No: 
"Dr. Julie Holland gives us a deftly written, deeply insightful exploration of women's hormonal fluctuations, sensitivities, and mind states not as pathology to be medicated but as an expression of their true selves. Moody Bitches is both engrossing theory and a practical guide enabling women to remain natural in an unnatural world."

Cacilda Jetha, M.D., and Christopher Ryan, Ph.D., coauthors of Sex at Dawn:
"This book should be read by moody bitches everywhere and the befuddled bastards who love them. Dr. Julie Holland has distilled decade of clinical and personal experience into a radically commonsense approach to the fluctuations of femininity."

Joshua Wolf Shenk, author of Power of Two: 
"Myself, I'm a moody bastard, but I've learned a ton from this brisk, provocative, and instructive book. Dr. Julie Holland writes with the authority of a clinician, the warmth of a good friend, and the urgency of someone who really cares."

Andrew Weil, M.D., author of Spontaneous Happiness: 
"Finally, an evidence-based guide to health for women, by a woman, that speaks to the mind, body, and spirit of womanhood. An invaluable manual for moody bitches and essential reading for anyone who knows one."
Penguin Books, 9780143107903, 368pp.
Publication Date: February 9, 2016
About the Author
Dr. Julie Holland has had a private psychiatric practice in Manhattan for twenty years. Her nationally bestselling memoir, Weekends at Bellevue, was based on her nine years running the psychiatric emergency room of America's oldest public hospital. Dr. Holland is an expert on drugs and the brain and appears regularly on the Today show and CNN. She lives in New York's Harlem Valley with her husband and two children.