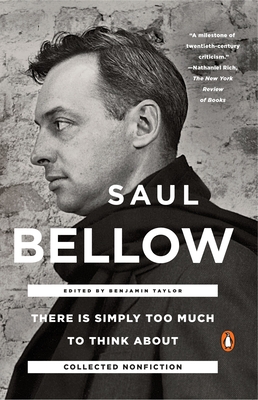 There Is Simply Too Much to Think About (Paperback)
Collected Nonfiction
Penguin Books, 9780143108047, 544pp.
Publication Date: March 22, 2016
Other Editions of This Title:
Digital Audiobook (3/30/2015)
Hardcover (3/31/2015)
* Individual store prices may vary.
Description
"Bellow's nonfiction has the same strengths as his stories and novels: a dynamic responsiveness to character, place, and time (or era) . . . And you wonder—what other highbrow writer, or indeed lowbrow writer has such a reflexive grasp of the street, the machine, the law courts, the rackets?" —Martin Amis, The New York Times Book Review
 
One of the supreme fiction writers of the twentieth century, Nobel laureate Saul Bellow was also deeply insightful in his lesser-known roles as essayist, critic, and lecturer. Gathered together in this stunning compilation, Bellow's vast range of nonfiction reveals the same wit, daring, and wisdom that distinguish The Adventures of Augie March, Henderson the Rain King, Herzog, Humboldt's Gift, and other masterly novels. In There Is Simply Too Much to Think About, as in the novels, the twentieth century comes fiercely to life through Bellow's unrivaled human understanding and singular style.
 
Benjamin Taylor, editor of the acclaimed Saul Bellow: Letters, joins Bellow's better-known essays to previously uncollected works selected from his criticism, interviews, speeches, and other reflections. Featuring Bellow's commentary on such fellow writers as Ralph Ellison, Philip Roth, and J. D. Salinger, a remembrance of Franklin D. Roosevelt, dispatches from Paris, Spain, and Israel, and indelible portraits of his hometown, Chicago, this collection brings together writing from every phase of his career. There Is Simply Too Much to Think About is a guided tour of the twentieth century—what we did, suffered, survived—conducted by one of modern life's most inspiring minds.
About the Author
Saul Bellow (1915–2005) is the only novelist to receive three National Book Awards, for The Adventures of Augie March, Herzog, and Mr. Sammler's Planet. In 1976, he won the Pulitzer Prize for his novel Humboldt's Gift. The Nobel Prize in Literature was also awarded to him in 1976 "for the human understanding and subtle analysis of contemporary culture that are combined in his work." In 1990, Mr. Bellow was presented the National Book Award Foundation Medal for distinguished contribution to American letters. He also received the National Medal of Arts.
 
Benjamin Taylor, editor, is the author of Naples Declared: A Walk Around the Bay, named a Best Book of 2012 by the New Yorker, and of two award-winning novels, Tales Out of School and The Book of Getting Even. Proust: The Future's Secret, his contribution to the Yale Jewish Lives series, will be published in autumn 2015. He previously edited Saul Bellow: Letters, named a Best Book of 2010 by Michiko Kakutani of the New York Times and Jonathan Yardley of the Washington Post. A faculty member in The New School's Graduate School of Writing, Taylor also teaches in the Graduate Writing Division of the School of the Arts at Columbia University. He is a past fellow and current trustee of the John Simon Guggenheim Memorial Foundation.
Praise For There Is Simply Too Much to Think About: Collected Nonfiction…
Praise for THERE IS SIMPLY TOO MUCH TO THINK ABOUT, edited by Benjamin Taylor:

"Rare are the novelists who write nonfiction comparable in strength to their fiction. Now that the bulk of his nonfiction has been drawn together from where the pieces first appeared separately, one sees that, like Henry James and John Updike, the great Saul Bellow was no less the master of the one genre than the other. This book overwhelms one like any artistic treasure newly discovered. When it came to wondrous lucidity in the service of an uncanny literary empathy--to a steady downpour of intelligence--to a direct contact with reality--to a sensibility attuned to the contradictions and the incongruities--he was unrivaled. Like the book of Bellow's correspondence collected several years back by Benjamin Taylor--the same intrepid editor who is the harvester here--There Is Simply Too Much to Think About further extends our sense of Bellow's extremely humane way of experiencing books, people, events,  and places. One witnesses his excited mind, in a molten state, running over." -- Philip Roth

"As I read There Is Simply Too Much to Think About I was reminded of why I taught Bellow in the first place, and perhaps why he won the Nobel Prize over other potential Nobel winners like Philip Roth or Norman Mailer: The man can write American English like no one else." — Chicago Tribune 

"This rich . . . collection of Bellow's reviews, essays, speeches, and interviews illuminate his lifelong exploration of what it means to be an American, a Jew, and a writer. As assembled by Taylor, the pieces succeed in showing that Bellow's calling was, in the novelist's own words, 'not to preach but to relate.'" — Publishers Weekly   

"A provocative and revealing glimpse inside [Bellow's] mind . . . For readers who want to engage with one of the great writers of the 20th century, [There is Simply Too Much to Think About] is nothing short of a literary feast." -- Minneapolis Star-Tribune

"In this splendid volume, Bellow does indeed give us much to think about. . . " — Associated Press
 
". . .There Is Simply Too Much to Think About provides us with a fine portrait of the artist who, in David Eggers's words, could remind you, in every paragraph, about virtually every level of existence.'" — Tom Lavoie, Shelf Awareness

"A nonfiction collection celebrates the centennial of Saul Bellow's (1915-2005) birth. Nobel Prize winner Bellow was a prolific writer of nonfiction: essays, reviews, interviews, talks and memoirs. Organized by decade, the 57 pieces in this volume, edited by Taylor (Naples Declared: A Walk Around the Bay, 2012, etc.), trace both Bellow's writing career and his outspoken opinions on politics, literature and intellectual life in America during the second half of the 20th century. After publishing Dangling Man (1944) and The Victim (1947), "two very correct books" that he thought would establish his credentials as a novelist, Bellow won his first National Book Award in 1954 for "a speculative biography," The Adventures of Augie March. Critical acclaim for that novel established his reputation; many more prestigious awards followed, as did opportunities to publish his views. Some of the most interesting pieces here are autobiographical. Born in Canada to Russian immigrants, growing up in Depression-era Chicago, Bellow knew early in his life that he wanted to be a writer. "I felt that I was born to be a performing and interpretive creature," he wrote, "that I was meant to take part in a peculiar, exalted game." As a young man, he looked up to such critics as Edmund Wilson, who supported him for a Guggenheim Fellowship, but by 1975, he had changed his mind dramatically: "Critics use strength gathered from the past to pummel the present," he announced scornfully. Nevertheless, Bellow found himself in a critic's role throughout his career, deriding novelists who were didactic and those more interested in being intellectual over telling a good story. He also bristled at being categorized as a Jewish writer: "I was a Jew and an American and a writer and I believed that by being described as a 'Jewish writer' I was being shunted to a siding." This comprehensive collection illuminates Bellow's sense of his own identity and his changing world." —Kirkus Reviews 

"The acclaimed novels and short fiction published during Bellow's lifetime stand on their own, but these dozens of snapshots offer insight into the mind of a contemporary master, reminding readers anew of the formidable breadth and depth of the author's erudition and his unceasing, uncompromising passion for literature. Even a decade after his death, this collection illuminates Bellow's continued relevance and confirms his standing as one of the most important American writers of the 20th century."  — Library Journal

Praise for SAUL BELLOW: LETTERS, edited by Benjamin Taylor:

***Selected by Michiko Kakutani of The New York Times as a Top Ten Pick of 2010***
***Selected by Jonathan Yardley of The Washington Post as a Best of 2010***

"It comes as no surprise to find that the greatest novelist was a great correspondent as well. I hungrily read the book through in three nights, as though I'd stumbled upon a lost Bellow masterpiece only recently unearthed." —Philip Roth

"In the Letters, as in everything he wrote, Saul Bellow never dipped below a certain level—and that level is stratospheric." —Nathan Englander

"Magnificent . . . The man is all here in this book, in his stunning, almost baffling plentitude. . . .  Taylor has selected and edited and annotated these letters with exquisite judgment and care. This is an elegantissimo book. Our literature's debt to Taylor . . . is considerable." —Leon Wieseltier, The New York Times Book Review

"Masterfully edited." —Vanity Fair

"Arresting, seizing the reader by the lapels and refusing to let go . . . Bellow is a gifted and emotionally voluble letter writer. The Bellow that floats to the surface in this volume is a close spiritual relative of the heroes who populate his fiction." —Michiko Kakutani, The New York Times