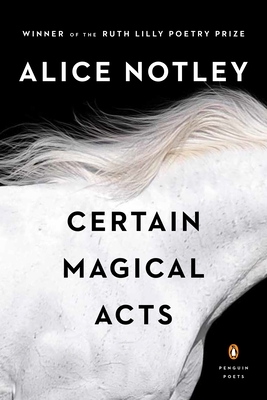 Certain Magical Acts (Penguin Poets)
Paperback

* Individual store prices may vary.
Description
An important new work of poetry from Alice Notley, winner of the 2015 Ruth Lilly Poetry Prize

Alice Notley has become one of the most highly regarded figures in American poetry, a master of the visionary mode acclaimed for genre-bending book-length poems of great ambition and adventurousness.  Her newest work sets out to explore the world and its difficulties, from the recent economic crisis and climate change to the sorrow of violence and the disappointment of democracy or any other political system.  Notley channels these themes in a mix of several longer poems - one is a kind of spy novella in which the author is discovered to be a secret agent of the dead, another an extended message found in a manuscript in a future defunct world - with some unique shorter pieces.  Varying formally between long expansive lines, a mysteriously cohering sequence in meters reminiscent of ancient Latin, a narration with a postmodern broken surface, and the occasional sonnet, these are grand poems, inviting the reader to be grand enough to survive, spiritually, a planet's ruin.
Praise For Certain Magical Acts (Penguin Poets)…
Praise for Certain Magical Acts

"Certain Magical Acts presents a rich variety of pieces that weave together familiar themes — from the nature of the self and the cultural importance of disobedience — that have distinguished her work since the 1970s . . . What remains constant in this complex work is the speaker's ease as she moves from one format and style to another, constructing and deconstructing ideas. That facility is one reason some consider Notley one of our greatest living poets."
–The Washington Post
 
"Reading Alice Notley is altogether unlike reading: the pure force of language, instant invention, rapid transformation, and coinage of new archetypes all add up to a more visceral, centrifugal, hallucinatory experience, which is all-absorbing as it is enlightening. "
– The Chicago Tribune 

"These are not poems of one world; they are poems of worlds within a world. Each world bears its own stories—'story' being a recurrent term and motif in the book. Among them are resonances of today's dire events and dread conditions, darkening the spirit of the 'I' whose soliloquies register the facts and forms of the worlds, and assesses them.Notley muses in the spirit of Nietzsche but with her own glorious and inspired honesty. No book by Alice Notley is ever less than magnificent, and Certain Magical Acts is exactly that."
- Lyn Hejinian
 
"Alice Notley made language surrender its deepest lie: that it matters. Making language do what it no longer has faith in, she restored its power. Language acquiesces to the authority of Notley's speech like a hypnotized leopard, a ferocious and devoted pet who sees itself only as an enactment of the poet's body, which is itself an enactment of a 'body.' Notley owns the magic of the luminous illusion of being here now in the place of enactments. Her work shatters, and always has, any expectation.."
- Andrei Codrescu
Penguin Books, 9780143108160, 160pp.
Publication Date: June 7, 2016
About the Author
Alice Notley was born in Bisbee, Arizona in 1945 and grew up in Needles, California.  She is the author of over 35 books of poetry, including Mysteries of Small Houses (Penguin, 1998, winner of the Los Angeles Times Book Prize and a finalist for the Pulitzer Prize); Disobedience (Penguin, 2001, winner of the Griffin Prize); and Grave of Light:  New and Selected Poems 1970 – 2005, which received the Lenore Marshall Poetry Prize.  Her honors also include an Academy Award in Literature from the American Academy of Arts and Letters and The Shelley Memorial Award from the Poetry Society of America.  She lives and works in Paris.
or
Not Currently Available for Direct Purchase