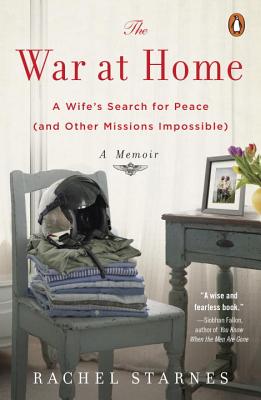 The War at Home (Paperback)
A Wife's Search for Peace (and Other Missions Impossible): A Memoir
Penguin Books, 9780143108665, 256pp.
Publication Date: July 5, 2016
* Individual store prices may vary.
Description
A portrait of the strains of a military marriage and meditation on what it means to be left behind—a brave account of the challenges facing the wife of a Naval fighter pilot.

When she fell in love with her brother's best friend, Rachel Starnes had no idea she was about to repeat a painful family pattern—marrying a man who leaves regularly and for long stretches to work a dangerous job far from home. Through constant relocations, separations, and the crippling doubts of early parenthood, Starnes effortlessly weaves together strands from her past with the relentless pace of Navy life in a time of war. Searingly honest and emotionally unflinching—and at times laugh out loud funny—Starnes eloquently evokes the challenges she faces in trying to find and claim a sense of home while struggling to chart a new path and avoid passing on the same legacy to her two young sons.

At once a portrait of the devastating strains that military life puts on families and a meditation on what it means to be left behind, The War at Home is a brave portrait of a modern military family and the realities of separation, endurance, and love that overcomes.
 
"Rachel Starnes's The War at Home navigates the joys, fears, compromises, and casualties that create the terrain of marriage. And if you are a military spouse, her memoir will reveal thoughts you never even knew you had. This is a wise and fearless book."
—Siobhan Fallon, author of You Know When the Men Are Gone
 
"One of the most honest and genuine memoirs I've ever read, as well as one of the most finely written. There's not a false note in these pages. Rachel Starnes's story is at once both singular and emblematic. . . . The War at Home is that rare thing: a book about the here and now that promises to last well beyond next month or next year."
—Steve Yarbrough, award-winning author of The Realm of Last Chances and Safe from the Neighbors
About the Author
Rachel Starnes received her MFA in Creative Nonfiction from California State University, Fresno. Her essays have appeared in The Colorado Review and Front Porch Journal. She has lived in Scotland, Texas, Saudi Arabia, Florida, California, and Nevada, and is currently on the move again with her husband, two sons, a cat, and a puppy.
Praise For The War at Home: A Wife's Search for Peace (and Other Missions Impossible): A Memoir…
"With compelling prose, Starnes delves deeply into the emotional ups and downs she experienced as she formed new friendships only to have them torn apart when they needed to move again, of the hurdles she faced raising her two sons for months at a time by herself, and of her own desires to be a writer, to be more than just a military wife, and to have some identity of her own. . . . The writing is often dramatic, providing readers with a behind-the-scenes look at military life from a unique perspective: that of the silent partner who endures separation, secrecy, and the fears that her husband may be the one who doesn't make it back. A gripping and guileless account of being the wife of a TOPGUN instructor." —Kirkus Reviews

"Rachel Starnes's The War at Home navigates the joys, fears, compromises, and casualties that create the terrain of marriage. And if you are a military spouse, her memoir will reveal thoughts you never even knew you had. This is a wise and fearless book." —Siobhan Fallon, author of You Know When the Men Are Gone

"This is one of the most honest and genuine memoirs I've ever read, as well as one of the most finely written. There's not a false note in these pages. Rachel Starnes's story is at once both singular and emblematic, and as I read it I found myself wondering just how many others out there are going through experiences similar to the author's while lacking the means to express them as she does so beautifully in this riveting account. The War at Home is that rare thing: a book about the here and now that promises to last well beyond next month or next year." —Steve Yarbrough, award-winning author of The Realm of Last Chances and Safe from the Neighbors

"Rachel Starnes has written elegantly and with deep feeling and insight about a common, but little written about and increasingly less understood, facet of American life. I found The War at Home a fascinating and compelling read." —Karl Marlantes, New York Times bestselling author of What It's Like to Go to War and Matterhorn

"The War at Home invites us into two worlds not often glimpsed—the loaded culture of Navy wives and the painful doubts of early parenting. Haunted by her troubled past, Rachel Starnes navigates these two worlds with striking honesty, exposing her faults and forging a way toward a future worth fighting for." —Katey Schulz, award-winning author of Flashes of War

"The War at Home, Rachel Starnes' stunning literary debut, is simultaneously harrowing and heartbreaking; an unflinching portrayal of the hidden costs of military service and the everyday challenges of building a life with her Navy pilot husband. This book is a profound narrative testament to the courage required to survive the cycles of connection and disconnection that the military life demands. Starnes takes a long look at her own childhood and personal history of relationships with men who leave, and the memoir explores her struggle to avoid a similar destiny for her two young boys. Filled with poignant lines and beautifully rendered scenes, the prose is also, at times, laugh out loud funny as Starnes stumbles through temporary jobs, friendships, and homes. Through her unfailing honesty, her humor, her courage on the page, and her willingness to write into the silent spaces, the reader finds a new wartime hero in Rachel Starnes." —Steven Church, author of Ultrasonic: Essays and The Day After The Day After: My Atomic Angst

"The War at Home is an honest, probing self-examination of a family battling its own conflicts against the backdrop of a nation on perpetual alert." —Alison Buckholtz, author of Standing By: The Making of an American Military Family in a Time of War

"The War at Home instantly charmed me. The messy and realistic life of Rachel Starnes pulls back the veil on one of the most selective and specialized communities of the world—the wives of Navy TOPGUN fliers. But don't fret, there are very few finger sandwiches here—Starnes shows up to Wives Club meetings with six-packs of beer and a punk-rock attitude. With Texas wit and daughter-of-an-oil-rigger grit, she delivers a powerful memoir of military family life." —Anthony Swofford, New York Times bestselling author of Jarhead
WarningError{{ infoItem.message }}Expand{{ infoItem.date | date:'HH:mm:ss' }}
Coverage from NPR
or
Not Currently Available for Direct Purchase