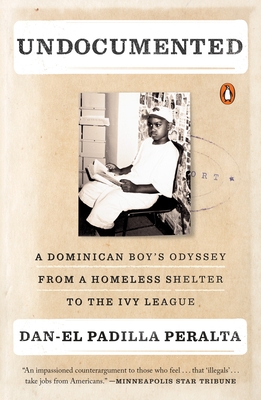 Undocumented (Paperback)
A Dominican Boy's Odyssey from a Homeless Shelter to the Ivy League
Penguin Books, 9780143109334, 320pp.
Publication Date: June 7, 2016
* Individual store prices may vary.
Description
An undocumented immigrant's journey from a New York City homeless shelter to the top of his Princeton class Dan-el Padilla Peralta has lived the American dream. As a boy, he arrived in the United States legally with his family. Together they had traveled from Santo Domingo to seek medical care for his mother. Soon the family's visas lapsed, and Dan-el's father eventually returned home. But Dan-el's courageous mother decided to stay and make a better life for her bright sons in New York City. Without papers, she faced tremendous obstacles. While Dan-el was only in grade school, the family joined the ranks of the city's homeless. Dan-el, his mother, and brother lived in a downtown shelter where Dan-el's only refuge was the meager library. At another shelter he met Jeff, a young volunteer from a wealthy family. Jeff was immediately struck by Dan-el's passion for books and learning. With Jeff's help, Dan-el was accepted on scholarship to Collegiate, the oldest private school in the country. There, Dan-el thrived. Throughout his youth, Dan-el navigated two worlds: the rough streets of East Harlem, where he lived with his brother and his mother and tried to make friends, and the ultra-elite halls of a Manhattan private school, where he immersed himself in a world of books and rose to the top of his class. From Collegiate, Dan-el went on to Princeton, where he made the momentous decision to come out as an undocumented student in a Wall Street Journal profile a few months before he gave the salutatorian's traditional address in Latin at his commencement. Undocumented is essential reading for the debate on immigration, but it is also an unforgettable tale of a passionate young scholar coming of age in two very different worlds. Praise for Undocumented
"Undocumented is an impassioned counterargument to those who feel, as did some of Peralta's more xenophobic classmates, that 'illegals' are good-for-nothings who take jobs from Americans and deserve to be kicked out of the country. No one who reads this story of a brilliant young man and his proud mother will automatically equate undocumented immigrant with idle parasite. That stereotype is something else we shouldn't take for granted." --Minneapolis Star-Tribune "Dan-el Padilla Peralta's story is as compulsively readable as a novel, an all-American tall tale that just happens to be true. From homeless shelter to Princeton, Oxford, and Stanford, through the grace not only of his own hard work but his mother's discipline and care, he documents the America we should still aspire to be." --Dr. Anne-Marie Slaughter, President of the New America Foundation.
About the Author
Born in Santo Domingo, Dominican Republic, Dan-el Padilla Peralta came to the United States with his family at the age of four. He received his BA summa cum laude from Princeton University, where he was chosen salutatorian of the class of 2006. He received his MPhil from the University of Oxford and his PhD in classics from Stanford University. He is currently a Mellon Research Fellow at Columbia University and will be returning to Princeton as an assistant professor of classics in July 2016.