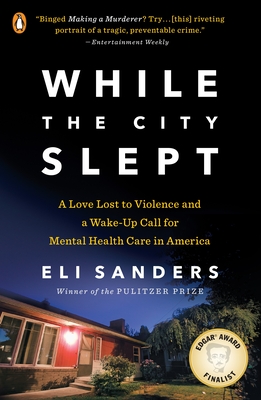 While the City Slept
A Love Lost to Violence and a Wake-Up Call for Mental Health Care in America
Paperback

* Individual store prices may vary.
Other Editions of This Title:
Digital Audiobook (2/1/2016)
Hardcover (2/2/2016)
Description
"Binged Making a Murderer? Try . . . [this] riveting portrait of a tragic, preventable crime." —Entertainment Weekly

Finalist for the Edgar Award for Best Fact Crime

Finalist for the Dayton Literary Peace Prize

A Pulitzer Prize–winning reporter's gripping account of one young man's path to murder—and a wake-up call for mental health care in America
 
On a summer night in 2009, three lives intersected in one American neighborhood. Two people newly in love—Teresa Butz and Jennifer Hopper, who spent many years trying to find themselves and who eventually found each other—and a young man on a dangerous psychological descent: Isaiah Kalebu, age twenty-three, the son of a distant, authoritarian father and a mother with a family history of mental illness. All three paths forever altered by a violent crime, all three stories a wake-up call to the system that failed to see the signs.
 
In this riveting, probing, compassionate account of a murder in Seattle, Eli Sanders, who won a Pulitzer Prize for his newspaper coverage of the crime, offers a deeply reported portrait in microcosm of the state of mental health care in this country—as well as an inspiring story of love and forgiveness. Culminating in Kalebu's dangerous slide toward violence—observed by family members, police, mental health workers, lawyers, and judges, but stopped by no one—While the City Slept is the story of a crime of opportunity and of the string of missed opportunities that made it possible. It shows what can happen when a disturbed member of society repeatedly falls through the cracks, and in the tradition of The Other Wes Moore and The Short and Tragic Life of Robert Peace, is an indelible, human-level story, brilliantly told, with the potential to inspire social change.
Praise For While the City Slept: A Love Lost to Violence and a Wake-Up Call for Mental Health Care in America…
One of Library Journal's 10 Best Books of the Year
One of Mother Jones's 20 Notable Books of the Year
One of the St. Louis Post-Dispatch's Best Books of the Year

"Expertly crafted . . . [Sanders'] evenhanded reporting and emotional commitment to the story make for gripping reading." —The Washington Post

"A heartbreaking—and compelling—story from every angle . . . Americans have long been fascinated by true-crime stories, from Truman Capote's 1966 masterpiece, In Cold Blood, through this year's binge-worthy TV series Making a Murderer. The bad guy is always mesmerizing. What makes a person go to that dark side? Sanders works hard to provide the answers. . . . [He] does a terrific job of telling the life stories of all three principal characters." —The Philadelphia Inquirer

"[A] disturbing, sometimes-horrifying story of true crime and justice only partially served." —The Huffington Post, "11 Books That Grab You from Page One"

"Inspiring . . . From a harrowing crime, it draws powerful lessons for our mental health and criminal justice systems that can't be ignored." —Sister Helen Prejean, #1 New York Times bestselling author of Dead Man Walking

"An arresting narrative . . . Certainly a story worth telling with lessons well worth learning. . . . It's heartbreaking all the way around." —The Seattle Times

"Written with great sensitivity and even greater beauty." —Jeff Hobbs, New York Times bestselling author of The Short and Tragic Life of Robert Peace

"Gripping . . . Moving and unsettling . . . Told with incredible sensitivity." —Minneapolis Star Tribune

"While the City Slept reveals the American landscape of a horrific crime. Eli Sanders, with a rare quality of attention, does this clearly and judiciously. Because of his outstanding reporting, we see not only the complex workings of one's environment on the course of one's life, but also how what we consider a tragedy is almost an inevitability—and how, of course, it doesn't have to be." —Adrian Nicole LeBlanc, New York Times bestselling author of Random Family

"Compassionate . . . A meticulous indictment of the way America reckons with mental illness." —Mother Jones

"Engrossing, elegantly written . . . A story that we need to hear." —Seattle Post-Intelligencer

"A gripping and sensitive account." —St. Louis Post-Dispatch

"Riveting . . . Absorbing and meticulous." —BookPage

"Told with care, compassion, and the kind of details that will force you to catch your breath." —The Stranger

"The author's opening pages are among the most immediate and breathtaking in modern true-crime literature, as evocative as any moment of In Cold Blood or Helter Skelter." —Kirkus Reviews, starred review

"Astonishing . . . Pair with Jill Leovy's Ghettoside for powerful . . . analysis of the failures of our criminal justice system. . . . It's heartbreaking, infuriating, required reading." —Library Journal, starred review

"An unflinching portrait of the human casualties of one city's and, by extrapolation, our country's overburdened health-care and judicial systems." —Booklist, starred review

"Gripping . . . Moving . . . Sanders's meticulous narrative [is] a disturbing indictment of society's neglect of the mentally ill." —Publishers Weekly

"This book is important. . . . Sanders writes with an uncommon empathy. . . . On both a human level and a policy level, While the City Slept makes a vital contribution and deserves a wide and receptive readership." —NWLawyer

"The great achievement of this book is that it shows how any crime is ultimately a failure of systems and of citizens, and that to some degree we are all complicit when a person who needs help is cast aside. To show empathy for a criminal, especially a criminal who has committed such a violent act, ennobles the process and purpose of journalism." —Dan Zak, author of Almighty

"Superb, pulse-pounding . . . Moving and mesmerizing . . . Grimly fascinating . . . Hair-raising . . . Sanders . . . is extremely sure-handed in his recreations of the lives, loves, and losses of his protagonists. . . . Every public official in a position to effect change in the mental health system ought to read this book and reflect deeply on its lessons. The rest of us can simply be moved to the tears summoned by the enduring love, tentative hope, and inconsolable pain of this searing human tragedy." —BookBrowse

"The book is wholly remarkable, and the heartbreak it delivers is a heartbreak we all share responsibility for. . . . Sanders has a deft hand and a sensitive approach and avoids the sensational. . . . [He] has given us the tools for a needed conversation, and it is high time that we started it." —The Seattle Review of Books
Penguin Books, 9780143109518, 336pp.
Publication Date: February 7, 2017
About the Author
Eli Sanders is the associate editor of Seattle's weekly newspaper The Stranger. He won the Pulitzer Prize for Feature Writing in 2012 for his reporting on the murder of Teresa Butz. His work has appeared in The New York Times, The Seattle Times, The American Prospect, and Salon, among other publications. Sanders lives in Seattle.
or
Not Currently Available for Direct Purchase